Stop Trading Time for Money, with Jenny Wemert
Episode 186:
While we're managing our businesses, our teams, and everything in between, creating freedom in our own lives often means placing our trust and support in partners who empower us to prioritize. Jenny Wemert talks about how she learned to choose the right partners for her "teamerage" and offers advice on building your business in a way that offers you and your team the freedom to stop trading time for money.
What you will learn in this episode:
Why Jenny went from a career in teaching to owning her own brokerage
How Jenny used her teaching background to build camaraderie and community in her farming networks
What a "Teamerage" is and why Jenny refers to her business as one
Why Jenny and her partners have made the conscious decision to operate their business as a team — from top to bottom
The role that hiring played in helping Jenny scale her business
What Jenny did to create freedom in her life while balancing her team, her family, and her personal goals
How Jenny continues to build her business in a way that allows her and her team to "stop trading time for money"
Stop Trading Time for Money
On this episode of the Pursuing Freedom podcast, Jenny Wemert talks about how she learned to choose the right partners for her "teamerage" and offers advice on building your business in a way that offers you and your team the freedom to stop trading time for money.
Following Her Servant Heart
Right out of college, Jenny became a teacher. Jenny loved teaching and was naturally great at it, but as someone who had always been driven by what she calls a "servant heart," Jenny soon found that teaching simply wasn't allowing her to live up to her full potential. There was just something missing. Jenny knew she had a gift for creating connections and influencing growth in others, so she decided to find a career that allowed her to put those skills to work. Lucky for her, it took no time at all for her to realize that that career was in real estate.
Not only did the real estate business appeal to Jenny's competitive spirit and affinity for fast-paced work, but it also gave her an opportunity to use her servant's heart while building up her business. She started in her own neighborhood, creating connections, building camaraderie, and farming those communities for business leads.
When her network started expanding more quickly than she had anticipated, Jenny realized that that success simply couldn't be managed alone. She needed a team. So she hired a few trusted partners, and when her business grew even more, she hired again. Little by little, Jenny scaled her business and grew her brokerage team up to nearly 80 people.
"Widening the Umbrella"
From the get-go, Jenny and her partners have remained committed to operating the business and the brokerage — the "teamerage," as they've come to call it — as a team. While the business generates leads for the agents, they continue to work as a collective, sharing in their numbers and in their successes. This "teamerage," and the culture of partnership they've created together, are what Jenny says she's most proud of.
Jenny continues to grow her business using the same philosophy she held when she first got her start. She calls it "widening the umbrella." Quite simply, whenever her current team reaches a point where they have enough leads to go around and then some, they hire again.
Jenny believes that continuing to create more opportunities for others has been the key to sustainably scaling her business while prioritizing her own time and freedom. She also emphasizes that contributing to the success of others hasn't diminished her own in the slightest. In fact, it has empowered her to create a business and a life where she never feels the need to trade her time for money. Moving forward, Jenny is committed to helping everyone she works with achieve the same level of freedom.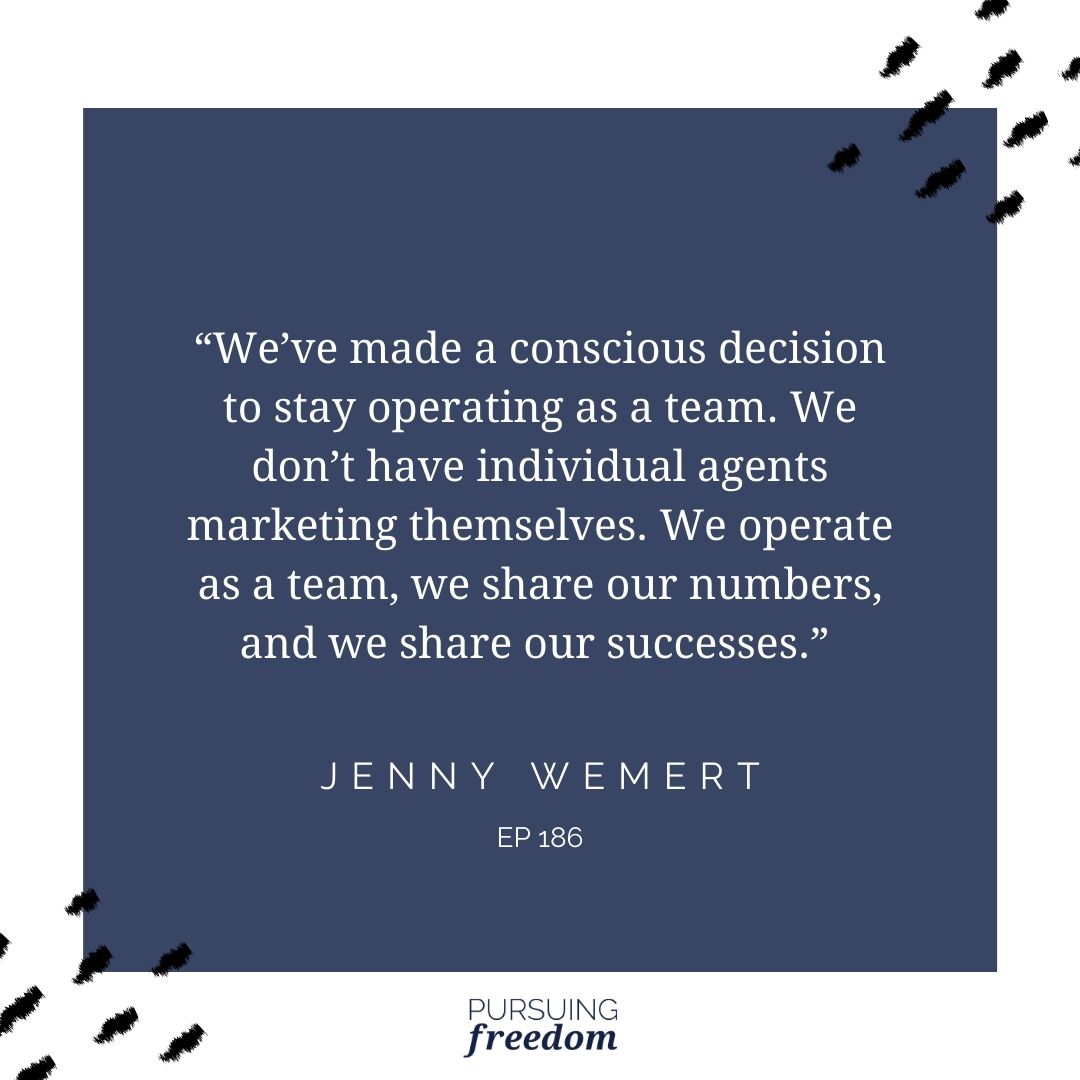 About Jenny Wemert
Jenny Wemert has focused her energy on cultivating and building her team to serve clients and always exceed expectations. Serving 1029 families last year alone, her team is comprised of agents, transaction coordinators, a full marketing department, and support staff.
Combining innovative vision and strategic marketing concepts with unmatched dedication to achieve the highest level of results truly does create clients for life. Boasting many awards, the ones which matter most to Jenny and her team are those reviews written by their clients.
With over 2160+ five-star reviews to the Wemert name to date throughout social media, common notes of trustworthiness and dedication are woven throughout. There is no higher compliment for a realty team.
How to Connect with Jenny
Balanced Growth Course:
Additional Resources: