Leading by Leveraging, with Cheri Benjamin
Episode 185:
From coaching her first team to growing that team tenfold, Cheri Benjamin has learned that finding success and pursuing freedom for ourselves means pursuing freedom for others as well.
What you will learn in this episode:
How Cheri started as the first agent at her business and became the owner of that business
Why Cheri treats every business relationship as a partnership
How Cheri grew her team from 67 to almost 400 members — during the pandemic!
The importance of attracting the RIGHT team members — and why Cheri says that in order to scale your business, you have to be able to attract leaders
How Cheri learned to "run her business like a business"
Why Cheri believes that pursuing freedom for yourself, and for your business, starts with pursuing freedom for others
Leading by Leveraging
Not only did Cheri successfully turn her team of 67 into a team of nearly 400 people within her first two years, she also managed to achieve this rapid and impressive growth during the height of the pandemic. How? By learning to lead with leverage. In this episode of the Pursuing Freedom podcast, Cheri reminds us all that whether we're working to expand our teams or build up our businesses, leading with leverage is the key to scalable growth.
Growing the Team to Grow the Business
Cheri was the very first real estate agent that her company, Village Premier Collections, ever hired. She was on a team of about 25 people, and it didn't take long for her to start feeling like that team had started operating like a mini brokerage. When she presented the idea to her owners, they agreed, and in no time at all, Cheri was opening her own physical location, leading her team, and helping it grow from 25 to almost 50 people.
A few short months later, the owners of Village Premier Collections decided to sell the business, and Cheri found herself leading the team not as an agent, but as the company's new owner. A leader and a coach at heart, Cheri knew that she wanted to expand the team and scale the business even more, and that she wanted to do so in a way that allowed her to support her team members so that they could continue to grow as well.
Scaling Up by Stepping Away
When she first started expanding her team, Cheri quickly realized that like so many of us, she was taking on too much. She wanted to scale the business, recruit more people, and dedicate time and resources to coaching and mentoring her current team members. She found that doing everything at once wasn't sustainable, and she knew that she didn't just need to find people to help her, she needed to find the right people.
During our conversations, Cheri emphasized that one of the most important lessons she's learned while scaling her business was that in order to do so, she needed to be able to attract leaders. Finding the right people for your team is integral to creating consistency and sustainable growth in your business, especially when you reach a point where you simply can't always be in the room.
Once Cheri found her core team of leaders — the handful of people she could leverage to help her delegate tasks, eliminate challenges, and automate aspects of her business where she'd struggled to create consistency — she not only felt empowered to step away, but she was able to do so while her business continued to skyrocket. As her business continues to grow and thrive, Cheri proudly shares that she's truly reached a point where she doesn't need to be everywhere all at once. She has the flexibility to be present when the opportunity presents itself but ultimately, her team makes it possible for her to keep her sights set on scaling the business without having to micromanage.
Adopting an "Ubuntu" Mindset
Cheri has adopted a leadership mindset that she actively incorporates with her business, her personal life, and even with her own family. It's called "ubuntu" — an African proverb that simply means, "I am because of you." Cheri says that this mindset has greatly influenced the way she leads her team and her family. She firmly believes that her personal growth and success are directly linked to the support she offers others as they grow.
Cheri's approach to leading her team and supporting the people in her life reminds us all that pursuing freedom for ourselves and for our business so often starts with pursuing freedom for others.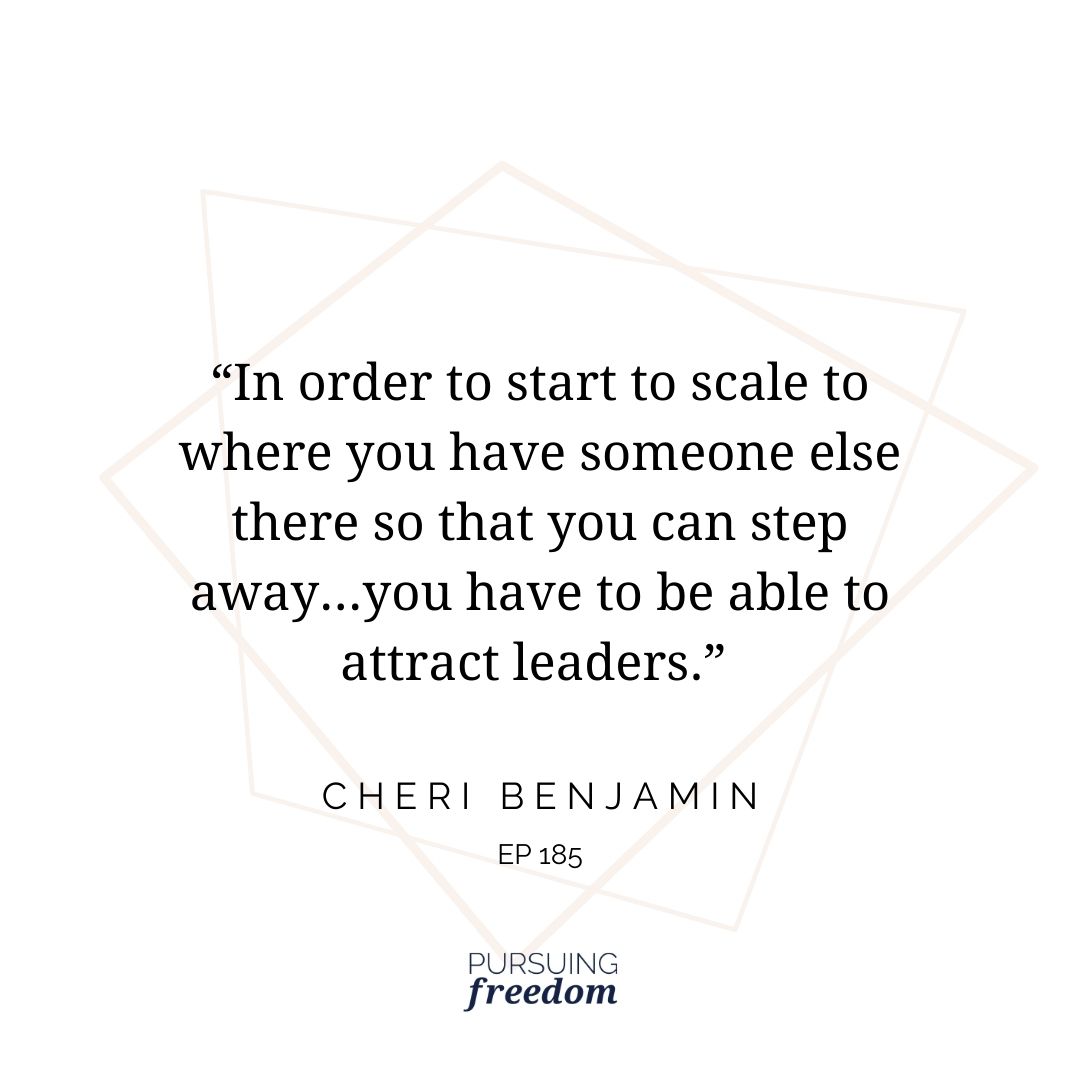 About Cheri Benjamin
Cheri Benjamin, CEO of Village Premier Collection, is a veteran and an African American business leader and mentor who uses real estate to help pursue her passion for helping families build lasting legacies in Metro Atlanta.
How to Connect with Cheri
Balanced Growth Course:
Additional Resources: