One Hour Personalized Coaching with Erin
Individual or team coaching, customized to fit your needs. No long term contract or commitment. Pay by the hour and come prepared to cover any topic you need help with right now- from mindset and goal setting, to growing your referral business, scaling and more!
Erin understands that we all face challenges in our journey as entrepreneurs, and those challenges continue to evolve as our business evolves! This is an opportunity to address the HERE AND NOW. Erin will give you the inspiration and resources you need to take the next right step in your life and business, and see the transformation unfold!
REAL ESTATE COACHING
An intimate 90-day group immersion to take you from red hot mess to clear, confident, and empowered.  Learn to lead in a way that attracts dream clients and abundance without being a slave to your phone and emails.
Whether you're hungry for more business, or you're maxed out and overwhelmed, we can relate! We've been there, and it's our mission to help you. We're passionately appreciative of how hard you work, and how much value you bring to the world. We will provide you a simple strategy to overcome your fears, and crush your goals, all while having more fun than ever before! Click here to sign up for a free consultation.
"In the few years I've been attending Erin's classes, doing her training and working with her on Real Estate transactions, I've learned more about personal development, creating a life I don't need a vacation from, how to build a successful team and goal setting than in the previous 13 years of my career combined."

Mic O.
ONLINE LEARNING
Balanced Growth
In this self-paced online program, I'll guide you through a process that enables you to get clear on your values and your gifts, transform your mindset from doubt to belief, and design your business to support your lifestyle goals. There is a science to simplifying your efforts, in order to maximize your results, and I can't wait to share it with you! The course consists of 6 modules, with 3-4 lessons each. The homework will support you in tapping into your values, learning to set goals from the heart vs. the head, and ultimately customizing a plan to help you live your best life, supported by a business that is predictable and enjoyable.
It's time to step off the hamster wheel and get back into the driver's seat of your life and business. Everything you dream about is available to you, as soon as you simply decide what you want, commit to taking massive action, and never give up!
I've known Erin for almost 10 years. When I first got into the business, when we got together, instead of selling me on her job as a mortgage broker, Erin talked to me about amazing books she's read and helped me reframe my mindset around our business when business was not easy. Many years later, she is a great friend and a great coach! I love this program because it's not specifically about numbers, tracking calls and all of the other things you typically learn when you sign up for a coaching-type program. Erin helps you focus on the big picture, and nailing down what's really important to you in your business, but more important - in your life. She walks you through how to reframe the way you do business every day, creating a plan and a schedule around how you want to work, focusing on what you are best at and utilizing your high-energy hours to do the most important tasks in your day. Instead of cramming more "stuff" into the day, Erin's program helps you focus on doing the activities that you enjoy, while outsourcing those things that suck your time and energy. I highly recommend this program for agents at any level looking to avoid burnout and be their best selves at work and in life!

~ Sara Wilhem - Realtor, Live Urban Real Estate
REAL ESTATE INVESTING
We teach our clients how to build wealth through Real Estate investing. Erin and her husband have always said that keeping their first home as a rental property was the best accident that ever happened to them! It was not part of the initial game plan, yet today, Erin and her family are living the life of their dreams, thanks to passive income from real estate. Our goal is to inspire our clients to think bigger, and pursue the life of YOUR dreams! Click here to schedule a mortgage consultation.
KEYNOTES & WORKSHOPS
Work with Erin at your next event. From keynotes to live workshops both virtual and in person. COMING SOON.
FREE RESOURCE LIBRARY
Head on over to our free resource library packed full of guides, checklists, and other resources that will help you take your business to the next level. Check it out here.
PODCAST
Through a weekly podcast, we interview top producing realtors nationwide, in order to bring you their best practices, habits and success strategies. Because every business owner has their own unique personality and brand, there's so much we can learn from one another! Pursuing Freedom is about creating community, collaboration, and inspiration. It's about helping you achieve freedom faster than you could ever dream possible! Join us here. To follow our podcast, click here. And if you're interested in being a guest on the show, apply here. We look forward to connecting with you!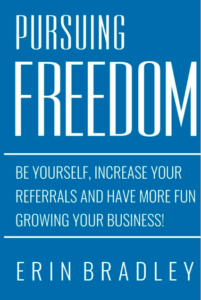 Pursuing Freedom: Be Yourself, increase your referrals and have more fun growing your business!
By Erin Bradley