Setting Real Estate Goals, with Euan Graham
Episode 140:
Learn why setting real estate goals that are big and bold can help you break through your limiting beliefs and achieve the life you want. Hear insights about:
How Euan moved to the United States from Scotland in 2008, and how he went through an unusual career path that taught him how to build relationships and a referral-based business
How Euan made the transition to selling real estate, and how he managed to thrive even during the Great Recession by setting real estate goals that moved the needle
What drives Euan to set big goals and then laser-focus on achieving them, and why he believes in giving as much as he can in all aspects of his life
Why Euan attributes his success to focusing on the positives and the opportunities he has been able to create for himself in a new country
Why making a bigger impact in his life and bringing more value to others is much more important than selling more properties and making more money
Why "the treadmill" no longer holds any appeal to Euan, and how he made key changes in his life to feel more fulfilled by his work
How Euan realized the importance of having a plan for the future so that he isn't still on the treadmill selling real estate at age 65
What advice Euan would offer to real estate professionals looking for the success he has achieved, and why you shouldn't overthink things and instead just take the dive
Why being completely authentic and focusing on creating value and making a difference for others is what has made the biggest difference in Euan's life
Why Euan believes that leading by example and not asking others to do things you aren't willing to do yourself is the key to life
Why personal branding is an important leverage point and asset, and why working for a forward-thinking, innovative agency is a point of pride for Kristina
Setting Real Estate Goals
Euan Graham is a real estate agent who was named the 2011 Denver Metro Rookie of the Year. Euan is also a respected influencer in the real estate industry, a mentor and thought leader, and a true innovator. He was also the very first guest I ever had on the Pursuing Freedom podcast, all the way back in episode one! Euan is originally from Galashiels, Scotland, but he now lives in Colorado with his wife. Euan has an incredible passion for serving others. Coupled with his fearlessness, Euan found tremendous success when he began his career in real estate in 2010, even in the midst of the recession. He did this by setting real estate goals that were big, lofty and brazen! In his encore visit to Pursuing Freedom, Euan shares how his goals have evolved with his career, and he explains why he charts his success not in properties sold but in serving others and making a difference in people's lives.
Being Fearless
My friend Euan is an extraordinary person who believes in diving in head first, without allowing fears of failure to hold him back. This mindset is powerful and has served him well in his career, and he has been able to achieve amazing things because he focuses not on the potential to fail but on bringing value to everyone in his life, from his clients to his family and friends. That passion, fearlessness and laser-focus allowed Euan to move to a new country, build a new life and new career, and thrive.
Setting Real Estate Goals That Matter
Euan has reached another transition period in his career, one in which he is ready to "get off the treadmill" and begin focusing not on more work but on more fulfilling work. He has begun the transition toward thought leadership and mentoring other agents and focusing on doing the things he wants to do rather than feeling as though he needs to take on any work that comes his way. Euan says his ambition is to focus on what makes him feel fulfilled by maximizing the impact he has on the lives of others. By following his passion and setting real estate goals that aren't about chasing numbers but are about serving others to the maximum of his ability, Euan is shifting his focus toward making a lasting difference.
As Euan said during his interview, his goal is to avoid being stuck and unable to retire. By surrounding himself with the right people and by building a reputation for giving his all to the people he serves, Euan is able to make this transition with confidence and pursue his freedom. How powerful is that? I'm honored to have such an amazing friend in Eua Graham, and I think we can all learn from the important life lessons Euan has recognized over the course of his career.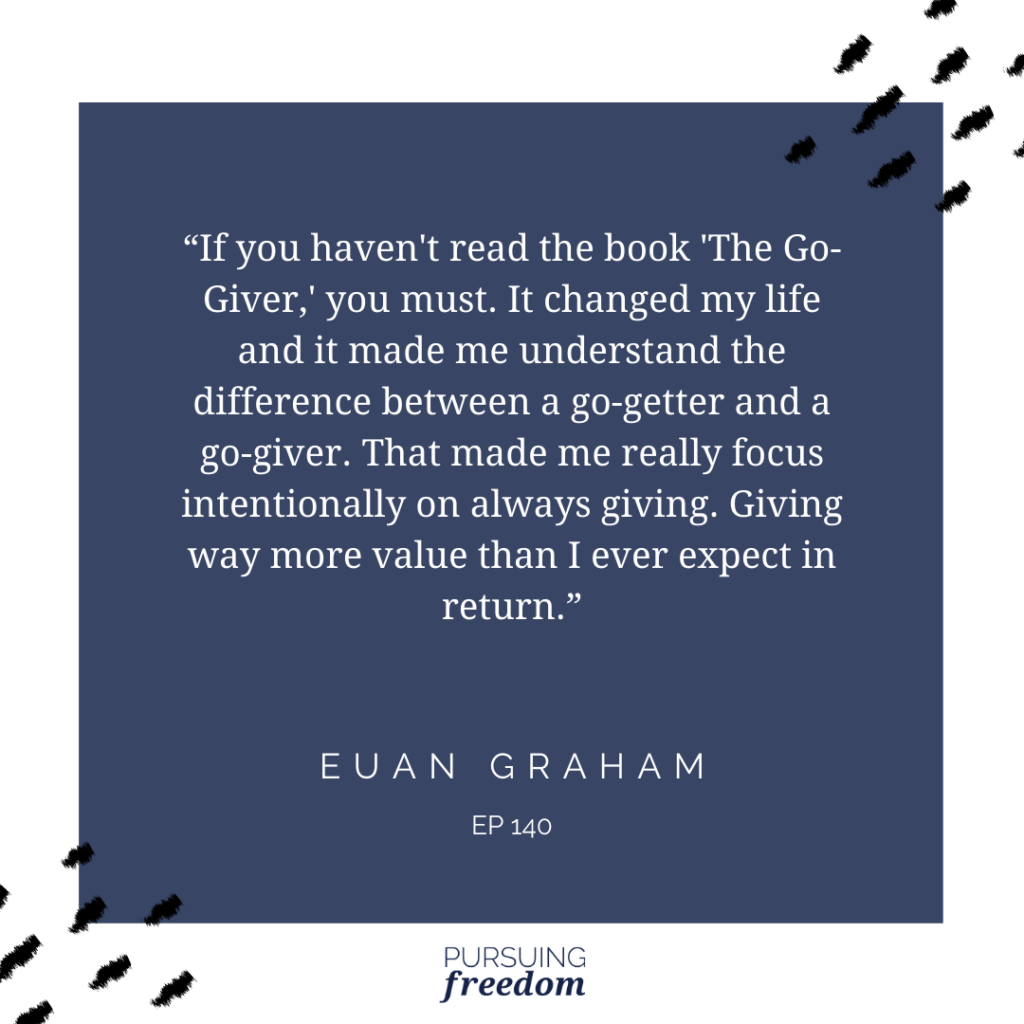 About Euan Graham
Originally from Galashiels, Scotland, Euan moved to Colorado in 2008 with his wife Mia. They are now established in the great community of Beacon Point in southeast Aurora with their daughter, Isla, and son, Finlay.
As Denver Metro Association of Realtors 2019-2020 Chairman, his many volunteer responsibilities include traveling and representing the Denver Metro Area, as well as staying on top of real estate legislation at the capitol. Named the 2011 Denver Metro Rookie of the Year, Euan has been extremely successful in the Colorado real estate market. He is a respected industry influencer, innovator, thought leader and mentor.
His entrepreneurial spirit, networking skills, and negotiation techniques have helped him build his reputation. Euan prides himself on building strong relationships in order to provide the highest level of service to his clients. He operates with great honesty and integrity and strives to always find the most advantageous terms for his customers. Whether you're looking to buy, sell, or invest in the Denver Metro real estate market, Euan will always go the extra mile to ensure your satisfaction.
How to Connect With Euan Graham
Balanced Growth Course:
Additional Resources: