Scaling a Business to Put More Time Back into Your Day, with Erin Bradley
Episode 136:
In this episode, I discuss the importance of scaling a business so you can put more time back into your day! Hear insights about:
Why scaling a business enables you to achieve greater time and financial freedom
How to leverage time, resources, and people to get the most out of our businesses
Why success doesn't have to come at a price
How to determine what to delegate so you can focus on activities that only YOU can do
What to look for in ideal candidates as you grow your team
How to approach energy management as you scale your business
How to organize your business to support your lifestyle vision
The Art of Scaling a Business
After 6 months on the road with my family, I am finally back at my office in Winter Park, CO. I am bursting with energy because when I first got into the real estate business, a trip like that would have been a complete fantasy! Scaling a business enables us to leverage time, resources, and even people to create more space in our lives for personal and professional growth. This process results in more energy, creativity, clarity, focus, productivity and so much more! Growth and scale are the keys to achieving the time and financial freedom you were seeking when you started.
Stop Surviving Success
Whether you are a brand new real estate agent or a seasoned veteran, chances are you're reading this because you're serious about success. Wherever you are on your journey, it's important to prepare for your success, in order to avoid letting it rob you of your time, energy and sometimes happiness. Don't get me wrong; success requires sacrifice. There's a saying about entrepreneurs, something about working like most people won't in order to someday live like most people can't. On the other hand, the growth of your business should not prevent you from enjoying the very success you've been seeking once achieved! When you do it right, you'll find yourself energized, organized, and creating predictable growth, leveraging your natural gifts as well as the gifts of others. You'll create opportunities for everyone around you, while giving yourself permission to enjoy the fruits of your labor!
Delegate and Automate
The real estate industry is a roller coaster at the bottom, and it is a roller coaster at the top. If you are not enjoying the ride, it is time to take a step back and figure out what you can change! It doesn't matter if you are able to pay the bills if your life is suffering as a result, and scaling a business can help you mitigate that lack of balance so you can focus on the revenue-generating activities that only YOU can do! When you figure out exactly what to delegate and offload from your plate, you will start to see results almost immediately. Learn how to get it done in this episode of Pursuing Freedom.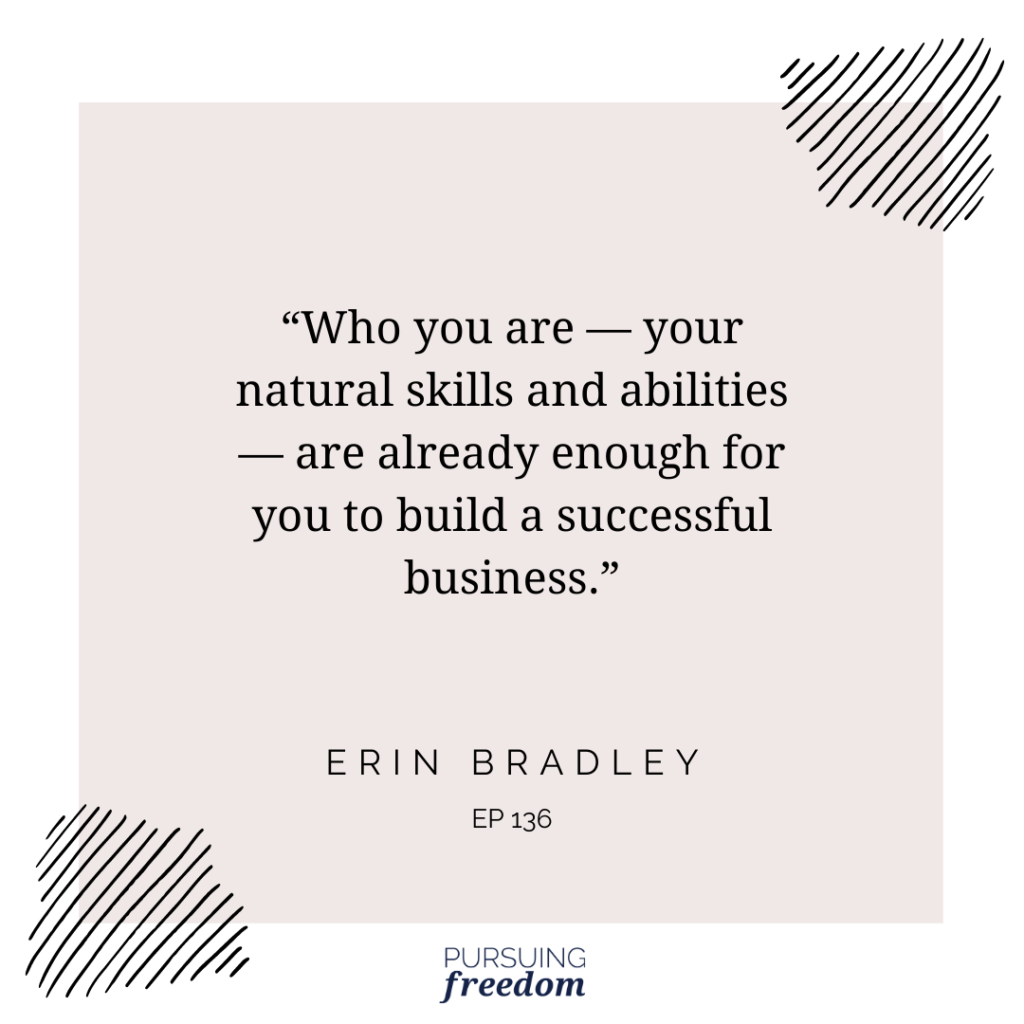 About Erin Bradley
Erin Bradley is a speaker and business coach, bestselling author, and host of the real estate podcast Pursuing Freedom. As a mortgage lender, Erin learned the hard way just how hard entrepreneurship and success in sales can be. From flat broke to 6-figures, and then to burnout, Erin and her team have been through it all! Erin operates under the mindset that you never give up, and you never settle, in life or in business. Anything is possible when you have the right mindset, great systems, and an amazing team. Erin is passionate about helping others design their ideal life, then create a business that is a vehicle to support that lifestyle, rather than rob you of it. And she's on a mission to help you believe in, and achieve your biggest dreams!
How to Connect With Erin Bradley
Balanced Growth Course:
Additional Resources: