Find Balance with Your Real Estate Philosophy, with James Colburn
Episode 120:
Real Estate Philosophy: What You Will Learn:
James' journey into the real estate business
How James managed to get off of the hamster wheel and enjoy both the financial success and the freedoms that real estate has to offer
How James' real estate philosophy aligns with our philosophy at Pursuing Freedom, and how it has worked for him
Why it is important to familiarize yourself with your process of failure as you plan out your goals
What steps you can take to shatter your limiting beliefs and overcome your fears of success/failure
The framework of James' book, "RESUCCEED"
What is Your Real Estate Philosophy?
James Colburn is an agent with John L. Scott, a brokerage based in the Greater Seattle Area. He is also the author of the bestselling real estate book, "RESUCCEED." James is with us today because his real estate philosophy is perfectly aligned with the values here at Pursuing Freedom. He shares his journey into the real estate business and explains his approach to planning, goal setting, and execution. Learn how to find a balance so your success doesn't come at the expense of your freedom!
Get off of the Hamster Wheel
Your real estate philosophy determines how you approach every aspect of your business, so it needs to be something you believe in! This requires intention, planning, and consistency because it is something you live every single day. James first realized this when he hired a coach to get from 80 deals to 120. They came to a mutual agreement that James would not achieve his goal unless he was also able to slow down and savor his life at the same time! For many agents, slowing down to hit a large goal is counterintuitive, but you have to play the long game. What is the point of working 80 hours a week to hit your financial goals if you can't enjoy the fruits of your labor anyway? Get off of the hamster wheel and make a plan that gives you both time and financial flexibility.
Full Transparency
We have talked a lot about visioning and planning, especially as we approach year-end and get ready for 2021. James opened my eyes to an entirely different side of that coin. In the Pursuing Freedom real estate philosophy, journaling plays a significant role in our ability to distill the goals in our heads and create a concrete plan to achieve them. But have you ever thought about what it would take to fall short of your goals? James stresses the importance of getting familiar with your process of failure, just as you would your process of success! Planning is an opportunity to clear the slate and be completely honest with yourself. Stop shoulding all over yourself, and get clear on what you need to do to hit your goals starting right now!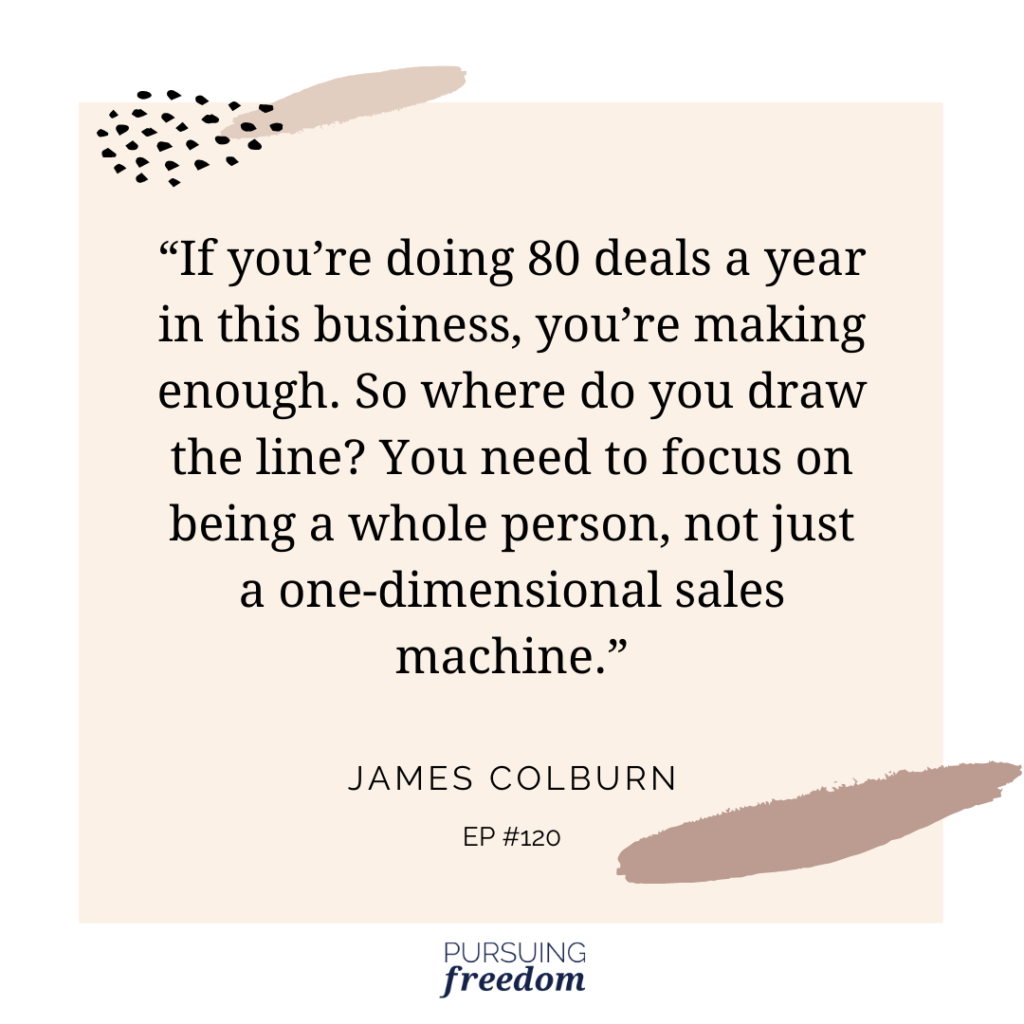 About James Colburn
James's core commitment is to human potential. This driving force compelled him to write RESUCCEED. For James, he believes the purpose of life has all to do with avoiding the trap of survival success which offers little to no fulfillment, passion, and joy in life. James challenges a life of a purpose where we are moved to contribute beyond ourselves, to fully show up in our lives, and fully integrate our talents and skills with our purpose, our meaning, and what brings us joy.
With over two decades of executive and entrepreneurial experience including nonprofit leadership and oversight, real estate investments, for-profit and nonprofit marketing design and implementation, and business development consulting, James offers a unique and refreshing approach to his work and all of our potential. His direct approach is centered in the practical and approachable for every day, already successful but real people looking for that edge, that area of improvement that dispels the myth that you have to sit alone on a mountaintop for 20 years to attain a life with purpose, fulfillment, and joy.
James has a BS in Marketing/Management and a MA in International Care and Community Development. He is the Chairman-Elect of Family Lines, an organization that reaches families from all walks of life by recognizing the value of an involved, engaged, loving father. He and his wife, Maurita are members of the Medical Teams International Puget Sound Leadership Council, a global health organization that empowers communities to live full and healthy lives.
James is also a Guest Lecturer at Northwest University College of Social and Behavioral Sciences speaking on Leadership and entrepreneurialism from a global context.
As an accomplished Resucceed Coach, James works with successful, already achieved individuals seeking the fullness that a life with success can offer.
James, his Wife Maurita, and his three children Eliot, Lucas, and Madeline live in Bothell, WA, a suburb of Greater Seattle. When James is not teaching, coaching, or writing he enjoys spending cherished moments with his family, enjoying sunsets in warm weather, or finding time to reflect and gain a new perspective on age-old challenges and problems of the human condition.
How to Connect with James Colburn:
Balanced Growth Course:
Additional Resources:
Book Recommendations: