Real Estate Mindset, with Chadi Bazzi
Episode 163:
Real estate mindset and clarity are crucial components in success. Hear insights about:
Why Chadi first got involved in real estate as a new father in 1997, and why missing the "magical moments" with his son shifted Chadi's real estate mindset
How relocating to California unlocked Chadi's potential and allowed him to achieve rapid, extraordinary traction for his business
How Chadi made the transition from agent to coach, and why the speed of implementation is a crucial metric for anyone's success
Why it is important to focus your marketing efforts on your spheres of influence and converting leads into sales
Why it's important to get clear on what life would look like in 2022 if it were as good as it could possibly be, and how the right real estate mindset can get you there
Why the right real estate mindset can help you get through the slow, low-energy times and get back to making progress
Why the word "believe" is the one word you should focus on that will help you achieve the fastest results in your real estate business
Real Estate Mindset
It can be easy to fall into the trap of grinding and grinding but not seeing the success you want in your business. However, grinding harder isn't likely to break you out of the rut. If you truly want to achieve big goals, it's crucial to develop a real estate mindset that supports your vision for the future!
This week's guest on the Pursuing Freedom podcast is Chadi Bazzi. Chadi became a real estate agent in 1997 when his son was born, but during those early years Chadi realized he was missing out on all of life's magical moments with his son, and so he realized he needed to make big changes to his business… and his mindset.
During our conversation, Chadi discussed why getting clear on what he wanted from life was the first step in shifting his real estate mindset and really moving the needle. He moved from Michigan to California and tackled real estate with clarity and purpose, and he booked over $100,000 in commissions in the first 30 days and took his first listing in the first 24 hours! If you're feeling stuck and not making the progress you want for your business, perhaps it's time to get clear on your goals and change your real estate mindset.
Shifting Your Real Estate Mindset
Step one for Chadi in shifting his real estate mindset was clearly envisioning and defining what he wanted his life to look like. As Chadi explained in our conversation, the key is found in "speed of implementation." It's about swiftly putting into place the right strategies and systems that will help you get closer to that perfect future vision.
Chadi suggests an exercise: think about what 2022 would look like if it were as good as it could possibly be. What would your day-to-day life look like? Next, write a letter as if it were December 31, 2022, and you were wanting to tell someone all about your successes for the last year. What would your letter say? Get detailed and super specific about your goals and intentions!
The Power of "Believe"
As Chadi explained, the word "believe" is the most powerful word that can change your future. If you know exactly what you want the future to look like, and if you focus on believing that you will have exactly that ideal future, you create a powerful real estate mindset that will inspire and energize you to get there.
Chadi Bazzi clarified exactly what he wanted his future to look like: financial and career success and more time to spend with his family. Then he took the necessary steps to manifest that future. Today, Chadi works as a coach helping others achieve that remarkable clarity and developing the real estate mindset they need to achieve their dreams.
If you'd like to learn more about Chadi, you can find him on Facebook, Instagram, YouTube, or at his website at www.TakeMoreListingsNow.com. And as always, check out www.pursuingfreedom.com for other great podcast episodes and interviews with industry professionals!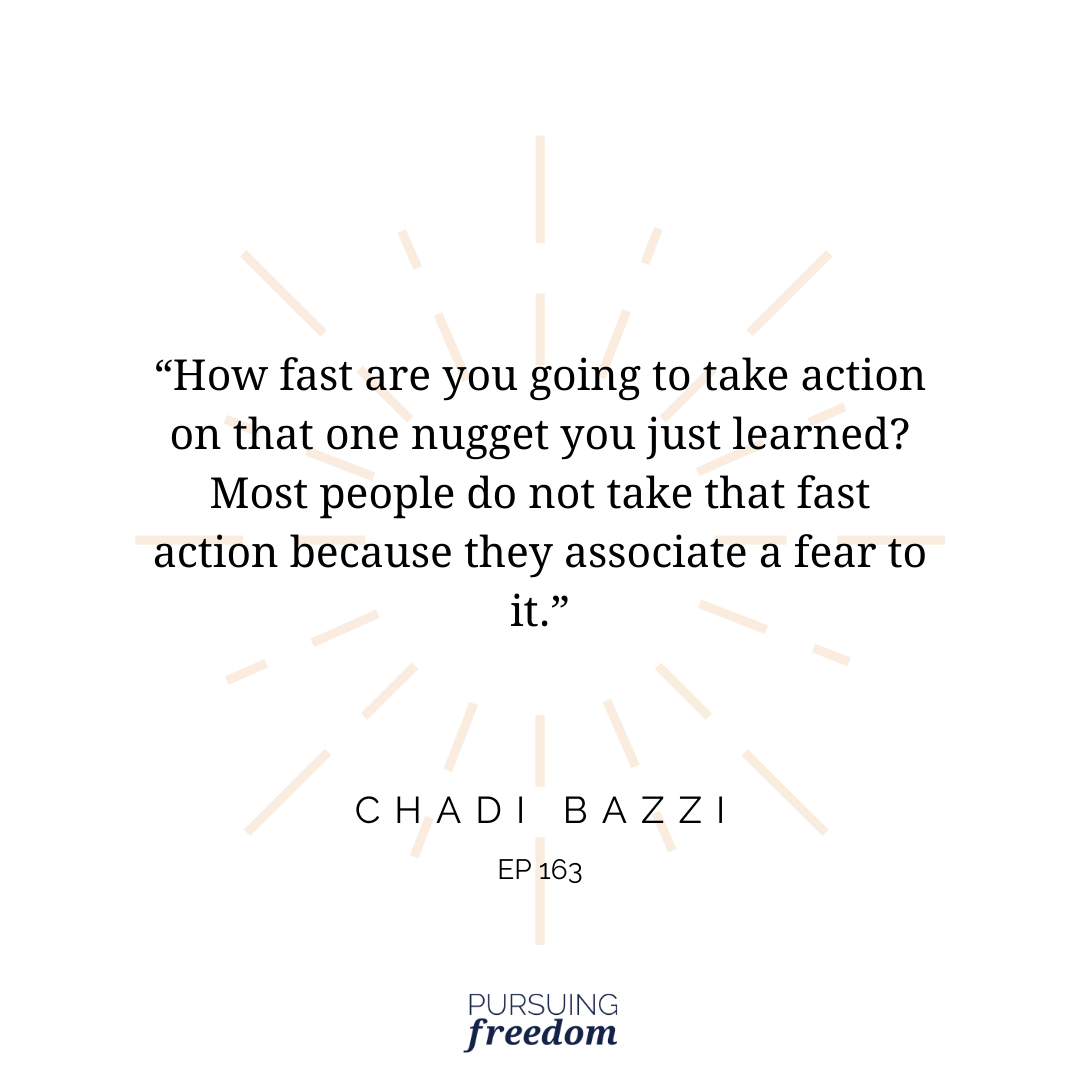 About Chadi Bazzi, in his own words:
"Hey my name is Chadi. I got into the real estate industry in 1997 when my son was born because I wanted to give him a life full of abundance. However, for the first two years I struggled like most agents do, and instead of spending more time with my son, I spent day and night building the business. But I wanted more, I wanted to go beyond my abilities so I moved to California in 1999 to work for the #1 Real Estate company in the world. That is where I got my real life success "college degree." In 2004, I decided to get back into real estate just to prove to myself and the general public that the skills that I developed are something that anyone can learn, and apply to create massive success very quickly.
On the first day back, I was able to schedule a listing appointment in less than 24 hours, and got the listing the following day. In addition, I was able to secure about 100k worth of deals in the first 30 days by only taking listings – no buyers at all. Even though I was getting a lot of success in the business, my heart wasn't completely fulfilled because I wanted to help people create massive success who were struggling just like when I started out in the industry. Due to my mastery of skills, I was approached by the new competitor of my previous employer to come in and coach for his company. Instantly, I became the #1 coach for the company and the most in demand one on one coach; never had less than 100 coaching clients at any given time while working there. Moreover, I developed their best real estate sales and marketing training programs, and I trained their internal sales staff.
Again, I didn't stop there, I was very successful at the company, but I wanted more. Therefore, in 2011, I decided to launch my very own company, Top Listing Agent, to teach people the more authentic way of selling than what was being taught by the competitors. I believe that was the right thing to do for me because I believe in people. Since then, I have launched one of the leading podcasts for real estate: Top Listing Agent show. In addition, I have a private facebook community full of free resources, and I show up in their every single day answering questions and doing live Q&A. I also developed Listings on Demand that provides real estate agents with the actions and steps to develop an unstoppable mindset, and master the art of influence. The ones that are really committed to changing their life will be able to turn their business upside down within 60-90 days of following this training. I am committed to making a difference in your life because I have been through what most agents struggle with and I have taken the action steps to change my life, and I want to give those to you.
The key to success has nothing to do with what you do everyday, and it has everything to do with how you are feeling while you are doing it everyday."
How to Connect With Chadi Bazzi:
Balanced Growth Course:
Additional Resources: