Real Estate Business Tips: One Thing a Day, with Jay Papasan
Episode 164:
Real estate business tips from expert Jay Papasan to help you get your most important work done and truly move the needle for your business. Hear insights about:
Why Jay left his career in publishing and found his way into real estate, and how he found his calling at Keller Williams
How Jay co-authored the bestselling book "The Millionaire Real Estate Agent" with Gary Keller and Dave Jenks
Why too many agents get stuck hustling and find themselves "trapped" in a thriving business without taking advantage of the free time they could create for themselves
How working with his own mentors impacted Jay and inspired him to co-author his bestselling book filled with real estate business tips to help you do "the one thing"
How the outbreak of the global pandemic changed Jay's priorities and encouraged him to make a key pivot when researching and writing his book "The ONE Thing"
Why identifying your one thing, your biggest priority, and then "making an appointment with yourself" to do it can help you accomplish big things for your business
How the book was designed specifically to help you easily find the key takeaways the book has to share
Why Jay's goal for the book is "teaching leaders how to do what they need to do when they need to do it so they can get what they want when they want it"
Why it is important to block out time for yourself, and how to avoid distractions and preserve that time as sacred
Real Estate Business Tips: One Thing a Day
Especially during the early days of your real estate career, it can be easy to get stuck in the weeds grinding out and spending your time on all the day-to-day work that is constantly seeking your attention. How do you ensure that, even with all the distractions, you're able to move the needle for your business?
This week's guest expert on the Pursuing Freedom podcast is Jay Papasan, Vice President of Learning at Keller Williams Realty International and bestselling co-author of "The Millionaire Real Estate Agent" with Gary Keller and Dave Jenks, and "The ONE Thing" with Gary Keller.
During our conversation, Jay shares extraordinary real estate business tips he learned over the course of his career, and we discuss the idea of making appointments with yourself to get "the one thing" done each day that will make the most difference to the growth of your business.
Real Estate Business Tips for Getting More Done
One of the biggest real estate business tips Jay had to share comes from his book "The ONE Thing", where Jay says it is crucial to accomplish at least one thing each day that will make a lasting difference toward your business success. If someone told you you could only do one single thing today that would benefit your business, what thing would you do? Once you know where your important priorities lie, you get important clarity on your business!
When you have a particular activity in mind, the next important thing is to reduce or eliminate distractions to ensure that you're able to do that one thing. Jay says the ideal way to do that is to set an appointment with yourself. Go ahead and put it on your calendar! And treat that time as sacred… no matter what's going on, don't cancel your appointment with yourself. Doing so will help you ensure that you're able to do your one thing a day without distractions.
The Benefits of Doing One Thing
The strategy Jay shared during our conversation is so powerful, because it can be very easy to undervalue your time or get distracted by things that in the moment seem much more important than they really are!
However, by making an appointment with yourself, you are carving out time for growing your business, which is extremely important for the long term health of your career! Even if it's just a little time each day, those small actions can add up to big gains if you're consistent and if you resist distractions.
If you would like to learn more about Jay Papasan, you can visit his website at www.jaypapasan.com or check out his newest book, "The ONE Thing," here. And as always, check out www.pursuingfreedom.com for other great podcast episodes and interviews with industry professionals!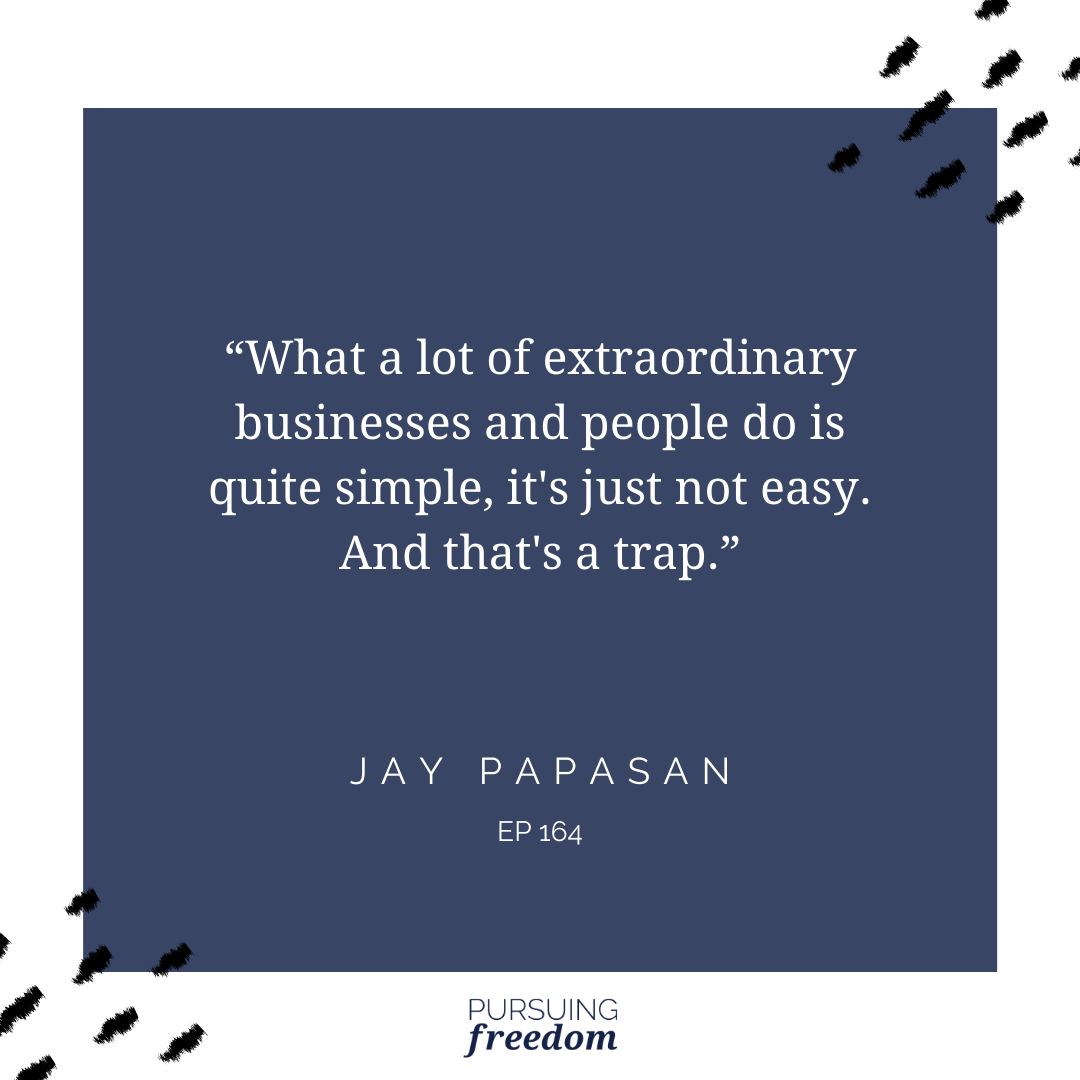 About Jay Papasan:
Jay Papasan [Pap-uh-zan] is a bestselling author who serves as the Vice President of Learning for Keller Williams Realty International, the world's largest real estate company. He is also Vice President of KellerINK and Co-Owner, alongside his wife Wendy, of Papasan Properties Group with Keller Williams Realty in Austin, Texas.
Jay was born and raised in Memphis, TN. After attending the University of Memphis, he spent several years working in Paris. He later graduated from New York University's graduate writing program and began his publishing career at HarperCollins Publishers. There, he helped piece together bestselling books such as Body-for-Life by Bill Phillips and Go for the Goal by Mia Hamm.
After moving to Austin, Jay joined Keller Williams Realty International, and in 2003 he co-authored The Millionaire Real Estate Agent, a million-copy bestseller, alongside Gary Keller and Dave Jenks.
His most recent work with Gary Keller on The ONE Thing has sold over 2 million copies worldwide and garnered more than 500 appearances on national bestseller lists, including #1 on The Wall Street Journal's hardcover business list. It has been translated into 39 different languages.
How to Connect With Jay Papasan:
Balanced Growth Course:
Additional Resources: