Real Estate Growth in 2021, with Megan Amerine
Episode 133:
Megan Amerine teaches us how to leverage people, resources, systems, and tools to achieve real estate growth in 2021. Hear insights about:
Megan's real estate journey with Five Pillars Realty
How to leverage people, resources, systems, and tools so we can remove ourselves from the bottleneck of unlimited potential
The business model Megan and her team have used to achieve exponential real estate growth
How Megan continues to find qualified, talented team members in a state of rapid growth
How Megan's team approaches the screening, interviewing, and onboarding processes
The unique role of administrative support in Five Pillars' business model
The personality tests Megan uses in the hiring process
How Five Pillars supports personal/professional development within the organization
Balancing Success and Happiness in Real Estate
Megan Amerine oversees the administrative side of Five Pillars Realty Group as a partner to Shelby Osborne. If you didn't get a chance to listen to my conversation with Shelby before, you can check it out here. I am blown away by the rapid real estate growth Five Pillars has achieved and I thought this would be the perfect time of year to bring Megan on the show. She works behind the scenes to support the mass influx of new agents and transactions. In this episode of Pursuing Freedom, Megan joins us to share her story and talk about leveraging people, resources, systems, and tools so we can remove ourselves from the bottleneck of unlimited potential!
The Business Model for Real Estate Growth
We cannot be great at everything as individuals because we don't have time to be great at everything! Oftentimes, that notion causes us to get in our own way. Time is the number one roadblock to achieving real estate growth because it is one of the few factors beyond our control. Megan is an expert at time and energy management, and that is the primary means she has used to scale her real estate business. Megan and many of her team members come from a Keller Williams background, and they have followed Gary Keller's philosophy to a T. Five Pillars uses a business model that puts admin at the foundation of the organization and builds around it. This way, everyone else that comes on has the support they need to grow and excel. That is why Megan's team has grown exponentially since its formation.
Finding Quality Talent
Once you have a business model that can support your pathway to real estate growth, you need to fill it with qualified individuals. Many of us struggle to find good candidates whose vision and values align with our own. This is another area of Megan's expertise as she has brought on a significant number of new employees in the last year alone. Megan has placed real estate agents in leadership roles on her team, and they are apart of the hiring process. Megan's agents are involved in screening, interviewing, and onboarding to ensure the support roles being filled will meet the exact needs of their agents. With an effective business model in place sustained by world-class talent, you will be on your way to real estate growth in no time!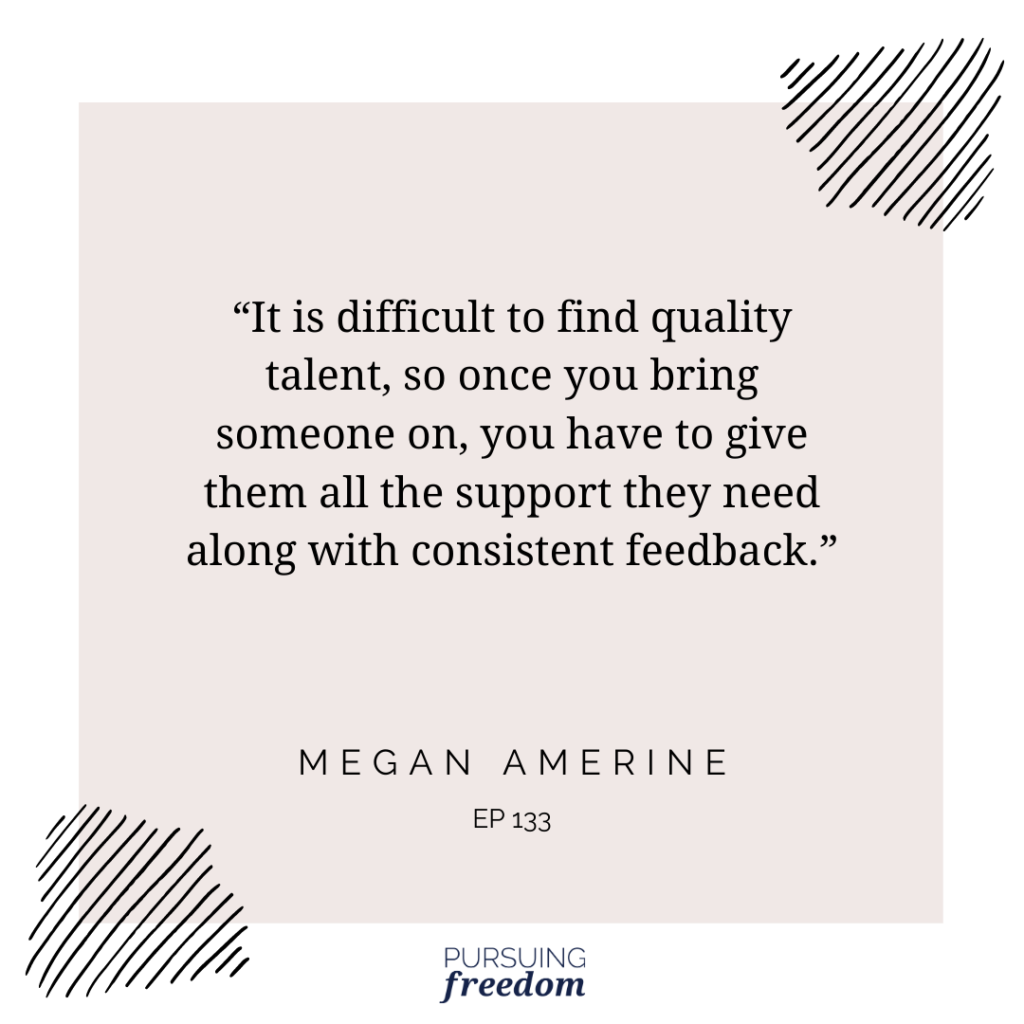 About Megan Amerine
Megan has made not enjoying the agent part of real estate into her career–she specializes in the transactional side of the real estate world. Her very first job at 15 was in a real estate office, and she hasn't been able to get away from it since–Megan has been licensed in North Carolina since 2015. She worked for two years as a full-time agent, then worked as a virtual transaction coordinator for a friend while her husband was deployed in 2017. She never ended up back in the agent seat. Instead, Megan started her own transaction coordination business, and has since joined forces with Shelby Osborne at Five Pillars Realty Group, who was her first agent client, to head up the admin side of the house. The team has grown exponentially since they first linked up through a mutual friend in 2018. Megan has worked or overseen nearly 500 transactions since she got her license in 2015. In addition to running the team, Shelby and Megan now run a consulting business together, teaching powerhouse agents how to transition into powerhouse teams with their tried and trusted systems and tools. All of her business is in North Carolina, which she does from the comfort of her home in New England with her toddler and baby #2 on the way!
How to Connect With Megan Amerine
Balanced Growth Course:
Additional Resources: