Scaling a Business in Real Estate, with Richard Tomasini
Episode 132:
Rich Tomasini shares his perspective on scaling a business through traditional and nontraditional means. Hear insights about:
Rich's real estate journey with eXp
How Rich built a team that is growing at around 100 agents per month
How to get the most out of retirement financially and spiritually
How Rich navigated the challenges of scaling a business and serving as a team leader
Rich's advice for attracting agents to build your team
How Rich transitioned from selling agent to team leader
What Rich did to expand the business beyond his marketplace
Rich's perspective on lead gen and prospecting
Building an All-Star Team
Rich Tomasini is with eXp Realty in the Charlotte, NC area, and he leads a team that is growing at about 100 agents per month! Over the last forty months, Rich has built a team of 1,300 agents in forty states and eight countries. Even after scaling a business to that size, Rich only works two hours per day, four days a week! He has without a doubt built a life that he doesn't need a vacation from, and there is a lot to unpack in our discussion. In this episode of Pursuing Freedom, Rich joins us to share his real estate journey and share his perspective on building an incredible real estate team.
Attracting Agents
Attracting ten agents to join your team is no small feat, let alone 1,300! Building a team of agents is the key to putting time back into your day so you can enjoy your success. When you understand the highest and best use of your time, you have completed the first step to hiring an admin or buyer's agent. The only way you will benefit from bringing someone else on is if you can use the time saved to generate more business. Scaling a business by attracting team members is a learned skill, so don't stress out if you haven't done it yet. Focus on doing the things that only you can do, and you will instantly become more attractive to real estate professionals with complementary skills.
From Scaling a Business to Early Retirement
The process of scaling a business is full of ups and downs; the same goes for serving as a team leader. But through all of the adversity, Rich was able to retire after just forty-one months in the real estate industry. "Retirement" is a difficult concept to grasp for many of us, especially when we're talking about a forty-four-year-old. For example, Rich continues to add value in many ways despite having let go of the reigns. When we retire, we don't have to give up doing what we love to do. We can continue pursuing our passion without trading dollars for hours, and that is freedom at its finest!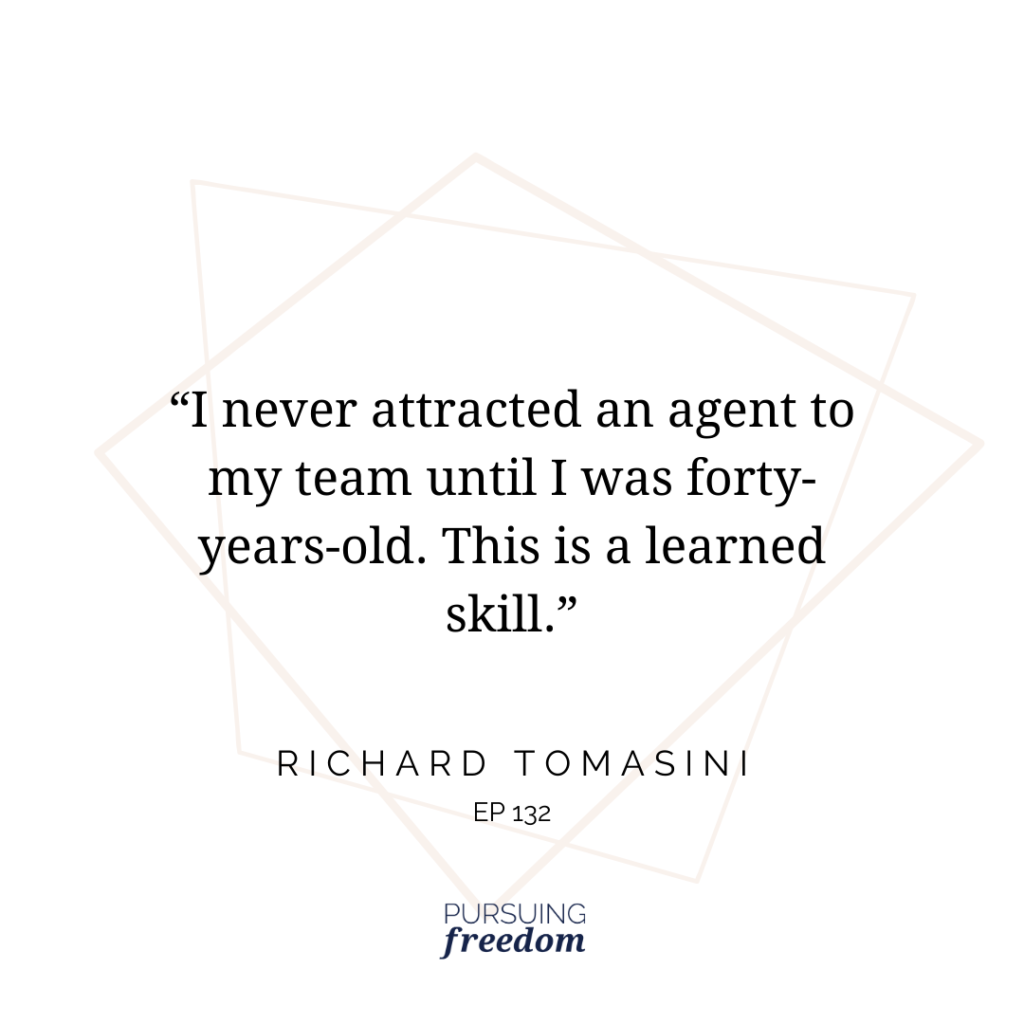 How to Connect With Rich Tomasini
Balanced Growth Course:
Additional Resources: