Networking in Real Estate, with Kristina Paces
Episode 138:
Learn why networking in real estate and building top-of-mind relationships with past clients can be a powerful lead gen edge with guest Kristina Paces. Hear insights about:
How Kristina's early career in news and PR taught her that she wanted to work for herself, and how she discovered a passion for real estate
How some early struggles in her real estate career gave Kristina a powerful push to educate herself and succeed, and how her career growth took off as a result
How Kristina was able to achieve her best year ever even during the challenges of the global pandemic, with her team of 3 doing 100 transactions from May 2020 to September 2020
Why networking in real estate with past clients has proven to be a powerful way to drum up new business for Kristina, and why staying top-of-mind is critical
How building out a small but capable team allowed Kristina to free up some of her time and responsibility
How Kristina transitioned from her previous firm to her current role, and how Kristina's expectations have evolved with the transition
Why the reduced volume in Kristina's work allows her to focus without feeling overwhelmed and give 100% to the work she does
Why it is important to challenge yourself and do whatever it takes early in your career until you begin finding success and finding what clicks for you
Why Kristina feels fortunate to be at a point in her career where she can choose who she does and doesn't want to work with
Why personal branding is an important leverage point and asset, and why working for a forward-thinking, innovative agency is a point of pride for Kristina
Networking in Real Estate
Kristina Paces is a Licensed Associate Real Estate Broker at SERHANT with more than a decade of experience in the highly competitive and challenging Manhattan real estate market. In this episode of Pursuing Freedom, Kristina shares her career journey and explains why great networking in real estate, personal branding, and staying top-of-mind with past clients has been a powerful way to drum up new business. She also shares how she had her biggest year ever even in the midst of the pandemic. And she shares why the early career hustle can give way to more measured, focused work and a lot more freedom!
Networking in Real Estate: Why It Matters
As you can imagine, New York City is the most competitive real estate market in the world. However, Kristina has been able to find tremendous success, particularly because she believes in forming lasting relationships with her clients. Then, when times are slow, she can often drum up new business opportunities just by picking up the phone and checking in with them! Kristina is able to leverage her network and her personal brand to ensure that she doesn't have to constantly hustle anymore and can instead pick and choose who to work with. And because she has a trusted team, Kristina is able to focus on the work she's truly passionate about.
Avoiding Feeling Overwhelmed
Early in your career as a real estate agent, you don't usually have the option to say no. You've got to work long, hard hours chasing down every possible opportunity. But — as your reputation builds and your career progresses, you begin to find the freedom to pursue the work you want to do and truly focus on what you're passionate about, without feeling like you're drowning in work. Networking in real estate and building a strong personal brand can help you get your name out there, creating new opportunities and freeing you from the "always on" grind. For Kristina Paces, maintaining those relationships with past clients has been crucial for minimizing the pressure she's under day-to-day. That's a valuable lesson!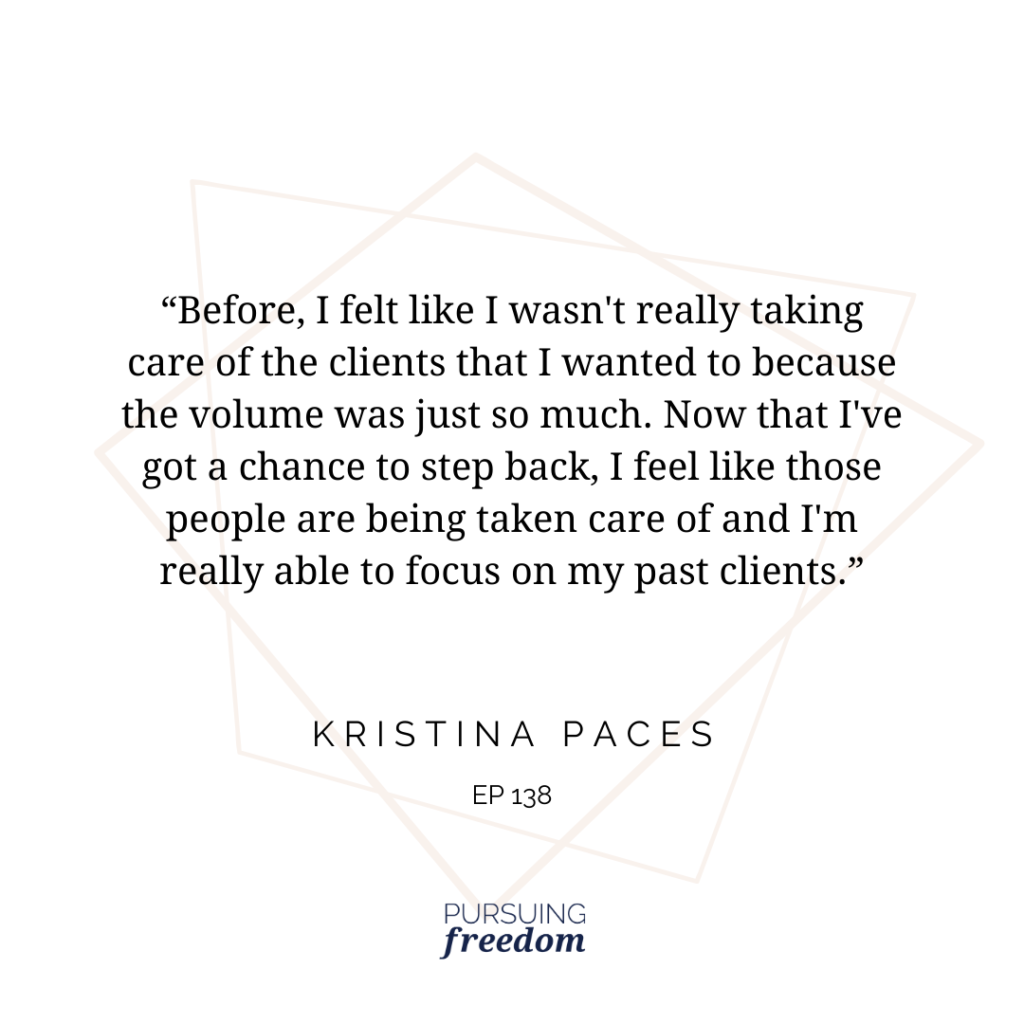 About Kristina Paces
Kristina Paces is a Licensed Associate Real Estate Broker at SERHANT. She has over a decade of industry experience in the world's toughest market, and at her previous brokerage she led a top-performing team and she consistently ranked in the top 4% of all agents in terms of overall production.
Kristina's clients value her commitment to their real estate goals as well as her professionalism and ability to develop and maintain long-term relationships. She is extremely thorough when assessing client requests, and her persistence and attention to detail give her clients a sense of comfort and reassurance during what can often be an intricate and drawn-out process. Her advice and guidance are informed not only by her fifteen years as an agent but by her own experiences as a homeowner and investor as well. Whether she's helping a young family sell their first home, working with a buyer on an investment property, or consulting with a developer on marketing strategy, Kristina ensures that her clients feel taken care of and are put in the best position to succeed.
"There is no better feeling than having a client refer their friends and family to me," she says. "That's a sign that I did a great job for them, and that they trust me to work with the people they love. If I am very lucky, I will wind up working with this client and their referrals for years to come."
Originally from Westchester County, Kristina currently resides in Manhattan's Financial District. She owns properties on Cape Cod and in Upstate New York. She is an avid runner and competes in marathons, and she loves exploring Downtown Manhattan.
How to Connect With Kristina Paces
Balanced Growth Course:
Additional Resources: