Living Your Success, with Catherine Bassick
Episode 182:
Sometimes living your success means silencing your insecurities and abandoning your comfort zone in order to embrace the opportunities you've always dreamt of pursuing.
What you will learn in this episode:
What it took for Catherine to become one of the most successful luxury agents on the west coast
How she became one of the first people EVER to sell a single property for over a hundred million dollars
How she generated over $400,000 in commissions during her very first year as an agent
Why she decided to leave her successful business on the west coast to come back to the east coast
Catherine's brilliant answer to the question, "How many homes have you sold?"
How she uses all of her success to do some good in the world
Why Catherine believes that "living your success" starts with being aware of your insecurities
Living Your Success
When it comes to living your success, no one does it better than my guest on Pursuing Freedom this week, Catherine Bassick. Catherine is a woman who knows the true power of trading in your insecurities for opportunities, and she lives her life around that philosophy.
Catherine's incredible career has taken her on a wild ride from coast to coast — literally! From making movies and music in the entertainment industry to becoming one of the highest-level luxury realtors on the west coast, she knows a thing or two about abandoning your fear in order to find success no matter where you go.
Don't Be Afraid to Throw Your Own Party
When Catherine first made the switch from the entertainment industry to real estate, her "next love," she quickly realized that not everyone wants to see you succeed when you're a newcomer. Did that stop her from finding success? Of course not! In fact, Catherine used that discomfort to find new ways to connect with her market more authentically — and it worked. In her first year as an agent, she earned over $400,000 in commissions. And she was just getting started.
A few years before Catherine became one of the first realtors to ever sell a SINGLE property for over one hundred MILLION dollars (you read that right, ONE PROPERTY!) — the real estate market was, on the surface, at an all-time low. People everywhere were talking about how bad things were, but Catherine decided early on that she "wasn't attending that party, she'd be throwing her own." That attitude resulted in one of the most successful years of Catherine's entire career. She advises anyone else facing an overwhelming environment or less-than-ideal circumstances to do the same thing she did: throw your own party and change that narrative for yourself.
Your Fear Is Never the One in Charge
Catherine knows better than just about anyone that sometimes, living your success means silencing your insecurities and abandoning your comfort zone in order to embrace the opportunities you've always dreamt of pursuing. During our conversation, she offered up an important reminder: no matter how successful you are, no matter how long you've been in your business, fear is always going to be a factor when it comes to new opportunities. The good news? Your fear isn't the one calling the shots. You are.
When it comes to dealing with her own insecurities, Catherine likes to picture them as a puppy that's being trained. When they start acting up, she firmly commands them to "Sit! Stay! And go lie down!" Whatever analogy works best for you, she says the important thing to remember is that YOU are always the one in control.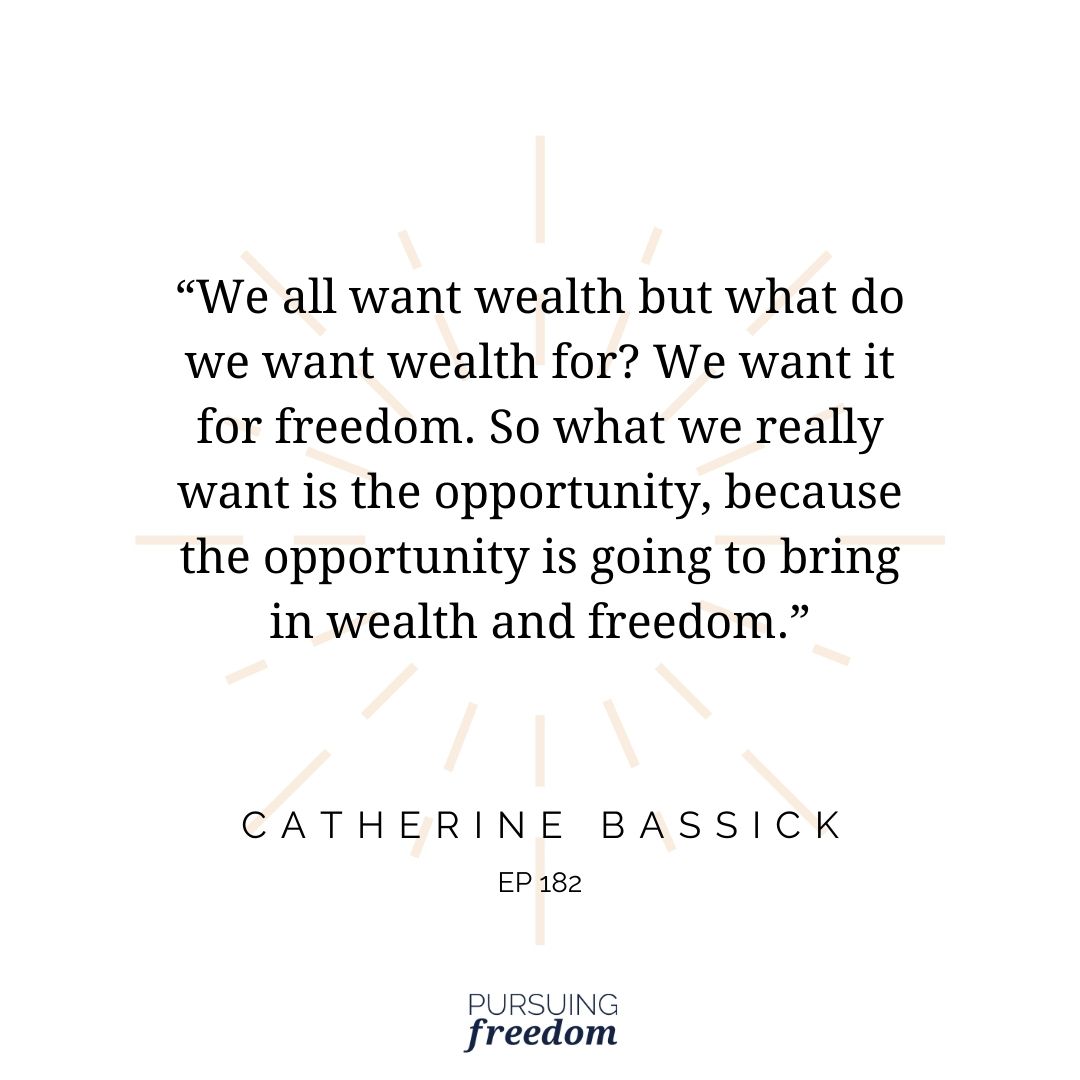 About Catherine Bassick
With 18 years of experience in luxury real estate and backgrounds in tech/entertainment, Catherine has helped clients achieve their ownership goals for over 20 years. Her extensive knowledge of the Greater Boston and MetroWest markets positions her as an expert advisor to those on either side of the real estate market table.
She is an Institute of Luxury Home Marketing Million Dollar Guild Level Member, member of the prestigious REALM network with the highest producers in real estate around the world, as well as the Top Agent Network comprising the top 10% of real estate agents in the Boston area. This enables her to find properties before they hit the market and share her listings with this very influential group of brokers.
True real estate professionals are adept at navigating the markets, whether trending up or down. Through a commitment to fostering strong relationships with the real estate community, Catherine has her finger on the pulse of properties and their price points, even if they are discrete transactions.
Catherine appears on Real Trend's Top 250 Real Estate Professionals, an annual ranking sponsored by The Wall Street Journal. With a resume boasting sale of the first single-family home over $100 Million in US History, ranking as one of the top 100 agents in the US, co-author of the best-selling book Luxury Home Selling Mastery, and distinguished as one of the Top 40 Influential Business Women by the Business Journal, Catherine prides herself on being one of the best in her industry.
More about Catherine
Catherine is devoted to community and believes in giving back by serving non-profit organizations. She is a Patron Director for the Museum of Fine Arts in Boston, Weston Cub Scouts Cubmaster, Member of the Rotary Club of Weston & Wayland, and Weston Memorial Day Parade Chair. She has been a Board Member of The Arthritis Foundation, a member of the Los Angeles Opera Board of Directors,​ and served on the SF Opera Guild Board and Los Angeles Opera Board. In her most recent project, she teamed with Boston Mayor Marty Walsh and the Boys and Girls Club of Dorchester to promote the New England Women's Leadership Awards for 2020.
How to Connect with Catherine Bassick
Catherine's Books:
Balanced Growth Course:
Additional Resources: