Just Roll with It, with Kaajal Shahani
Episode 183:
Real estate is an unpredictable business. But Kaajal Shahani knows that when the market throws our business for a loop, sometimes the best thing we can do is learn to "just roll with it!"
What you will learn in this episode:
How Kaajal Shahani has mastered the art of creating consistency — even in an unpredictable industry like Real Estate
Why she used to say she'd "never get into real estate," and what changed her mind
How Kaajal got a job as a buyer's agent even though she initially had no idea how to be one
What happened when Kaajal left her first job in the industry to move back to her hometown in the Bay Area
Why having an entire family of real estate professionals is helpful…and also not so helpful
How Kaajal reacted when some of the most successful moments in her career were immediately followed by major market crashes
Why Kaajal used to balk at the idea of having a daily routine — and why she swears by it now
How "joking" about going on a sabbatical resulted in Kaajal taking a MONTH-LONG vacation with her entire family on her 40th birthday
Kaajal's advice for anyone looking to create balance in their business and their life
Just Roll with It!
It's probably safe to assume that no one enters the real estate business because of the consistency it offers. You can have one of the greatest months of your career, only to have it immediately followed by one of the toughest. Kaajal Shahani, our guest on this episode of the Pursuing Freedom podcast, knows this all-too-well.
After navigating the ups and downs the market has thrown her way throughout her career, she's learned that sometimes, creating consistency means embracing unpredictability with an attitude of, "just roll with it!"
It Started with a "What's Next?"
Since she grew up in a real estate family, Kaajal decided to pursue a career in a totally different world: corporate America. But, when the 9-to-5 life started to feel stifling, she found herself asking "what's next?" And that's where her story truly got started.
While it was always an option she kept in the back of her mind, Kaajal's transition into the real estate industry happened much faster than she ever would have expected. Once she had her license, she left her 9-to-5 job, walked into a local realtor's office on a whim, and struck up a conversation with a broker. That conversation lead to another one with a different broker who was looking for a buyer's agent. And, even though she didn't know anything about being a buyers agent when she first started, Kaajal not only loved the work, but she also ended up closing 36 sales in her first year alone. Suffice to say, she'd found her fit.
Navigating the Ups and Downs
Kaajal had an incredible team behind her, a mentor to guide her, and with such a successful chapter under her belt, she decided to move back to the Bay Area to start her own business. Everything was falling into place.
And then the market crashed…
Getting a business off of the ground is never a walk in the park, but for Kaajal, it meant spending a year and a half door-knocking, cold-calling, and doing open houses every single weekend — many of which ended up being no-shows — before she made her first sale. Finally, right around the time she was starting to wonder what more she could possibly be doing, Kaajal started closing deals. Her determination and tireless efforts were paying off. She'd built up her local network, gained recognition in her area, and was set to keep building off of that momentum she'd been storing up.
And then the market crashed…again.
Creating Balance
Knowing how and when we need to adapt in order to evolve is something Kaajal refers to as the "mastery of the business." Even though the market continues to ebb and flow just like always, Kaajal's volume has still gone up year over year. She's adamant that the consistent growth would not be possible if it weren't for her routine and the "just roll with it" approach she's learned to take in the face of unpredictability.
Kaajal encourages anyone who is navigating uncertainty, whether it's with their business or their personal life, to lean into it. Creating balance often means being willing to embrace change and adapt to challenges without allowing them to limit our success.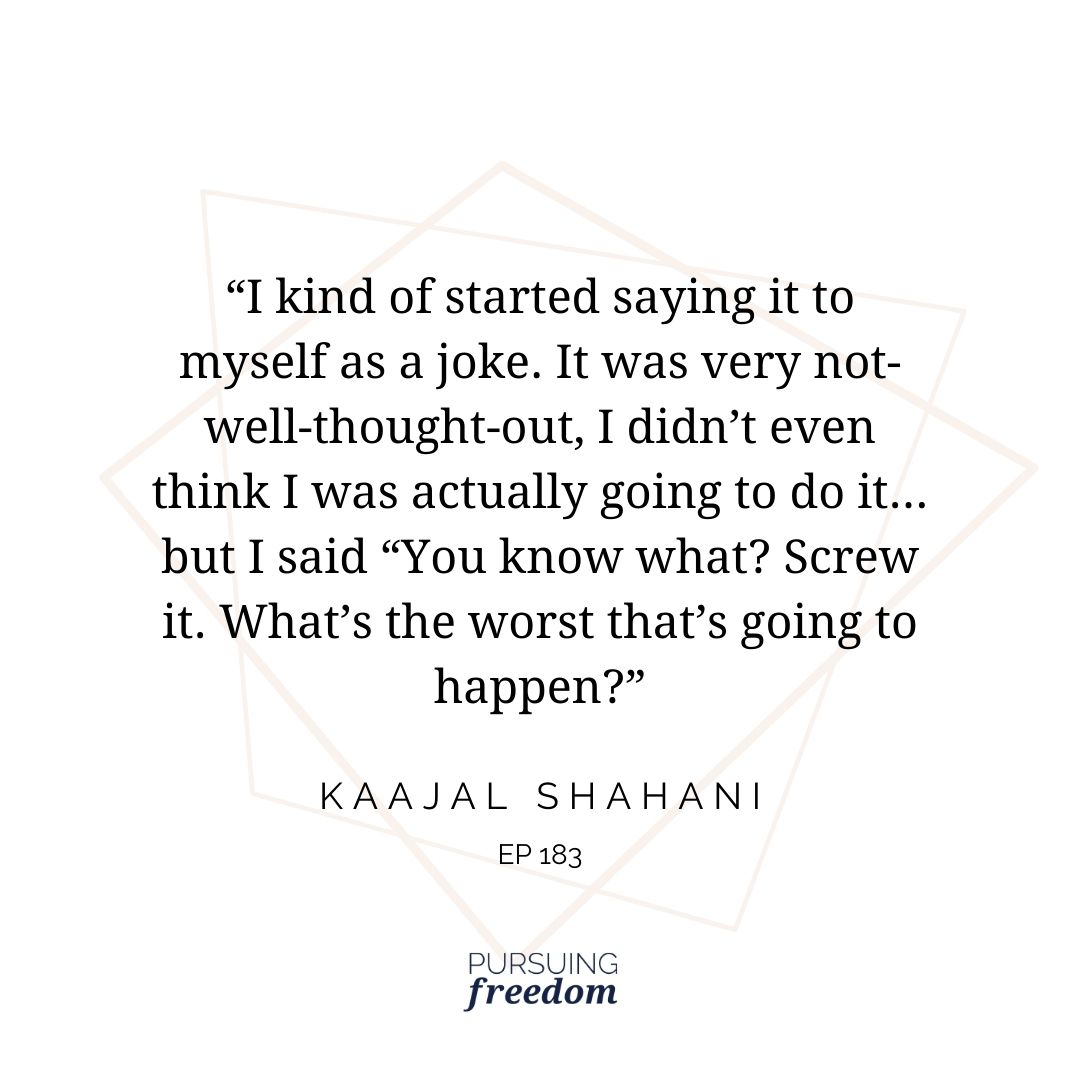 About Kaajal Shahani
Kaajal Shahani is a top real estate agent in Fremont, California. She has been awarded 'Fremont's #1 Realtor' consistently for the past few years. Kaajal brings 18+ years of knowledge and expertise about buying, selling, and investing in real estate. Her achievements include- a distinction as the '#1 producer' by Fremont Intero Real Estate, Real Estate Expert on Newsweek, HGTV guest appearance, and Intero Top Real Estate Agent 1%.
As a lifelong resident of the East Bay area, Kaajal offers a true insider's perspective and comprehensive local knowledge, which has been invaluable to her clients. She works with her buyers and sellers through every step of the process and navigates complex transactions with ease and expertise to deliver results. Kaajal is best known for her:
Innovative marketing strategy
Detailed home staging initiatives to showcase properties
Cutting-edge technology, including the use of professional videographers/virtual tours, to create an exceptional online representation of exclusive listings, dedicated websites, and social media portals
Kaajal specializes in real estate transactions, including selling and purchasing single-family homes, distinctive luxury estates, investment properties, and residential condominiums/townhomes in Fremont and surrounding areas. She offers first-time homebuyers step-by-step guidance to ensure seamless transactions – and the opportunity to own the home of their dreams.
How to Connect with Kaajal Shahani
Balanced Growth Course:
Additional Resources: