Getting Aligned, with Michelle Risi
Episode 143:
Getting aligned with your work and your personality is crucial for finding balance, harmony and happiness while still achieving your goals. Hear insights about:
How Michelle got her start in and discovered her love of real estate through a part-time job at the young age of 13
How Michelle's insider view of the real estate business and entrepreneurialism initially scared her, and how she learned to push through her fears
Why Michelle realized that doing things her own way and aligning her work with her introverted personality made a big difference in her success and happiness
Why Michelle made big changes to her life and career to pursue her "trifecta" of freedom, fulfillment and financial success through new levels of alignment
Why true success comes from loving what you do, and why it is important to avoid the trap of "comparisonitis"
How Michelle's "ABCs of Alignment" (awareness, belief system, clarity) can help you truly understand yourself and what steps to take to become more aligned
How neuroscience shows us that we can reprogram our minds even before we truly believe in our decisions
How our brains are wired to keep us safe rather than allow us to achieve success, and why overriding our fears and having faith are vital skills to learn
Why you have to be "committed" to your decisions rather than merely being "interested" in the outcomes
Why staying true to what you find fulfilling and listening to your heart opens new doors to success that you might not have even imagined
Getting Aligned
Michelle Risi doesn't fit the mold of what many of us have been led to believe is the "successful real estate agent". She isn't an aggressive, extroverted sales master who schmoozes her way toward closing deals. But Michlle was named one of the Top 50 Women in Canadian Real Estate, according to Real Estate Professionals Magazine. She's a broker/owner, a thriving entrepreneur, thought leader, and CEO of The Aligned Agent Academy where she teaches other real estate agents the power of getting aligned.
How has she achieved so much in her career while still staying true to herself? For Michelle, alignment is everything. It's about aligning your work with your passions and your personality, and finding the right balance that works for you — even if it runs contrary to everything you were taught!
Michelle joined me for a powerful conversation in this week's episode of the Pursuing Freedom podcast, where she shared how achieving alignment starts with the ABCs of Alignment — Awareness, Beliefs, and Clarity.
Getting Aligned with the "ABCs of Alignment"
Michelle teaches that getting aligned starts with Awareness; understanding yourself, how you're operating, how you make decisions, and how those decisions do (or don't!) align with your goals.
Once you understand yourself and where you are now, the next step is to look at your Beliefs. Do the things you truly believe resonate with your goals? Or do you listen to the tiny inner voice of self-doubt and fear? What do you believe about 'success' and what it looks like? What work can you do to "reprogram" your beliefs and conquer your inner critic that too often holds you back?
The last step is Clarity; it's about creating a clear and uncompromising vision for where you want to go. Your brain needs that clarity as a roadmap to help steer you to the right decisions that will bring you closer to your destination.
It takes time, intentionality, dedication and hard work to reprogram your brain and learn to see success through a new lens. But the results are more than worth the effort! You really can have the life you want, if you're ready to do the work of getting aligned with your dreams.
To learn more about the extraordinary Michelle Risi, you can follow her on Instagram or visit her website, MichelleRisi.com! To learn more about her coaching programs that can help you in your journey toward getting aligned, please visit the Aligned Agent Academy.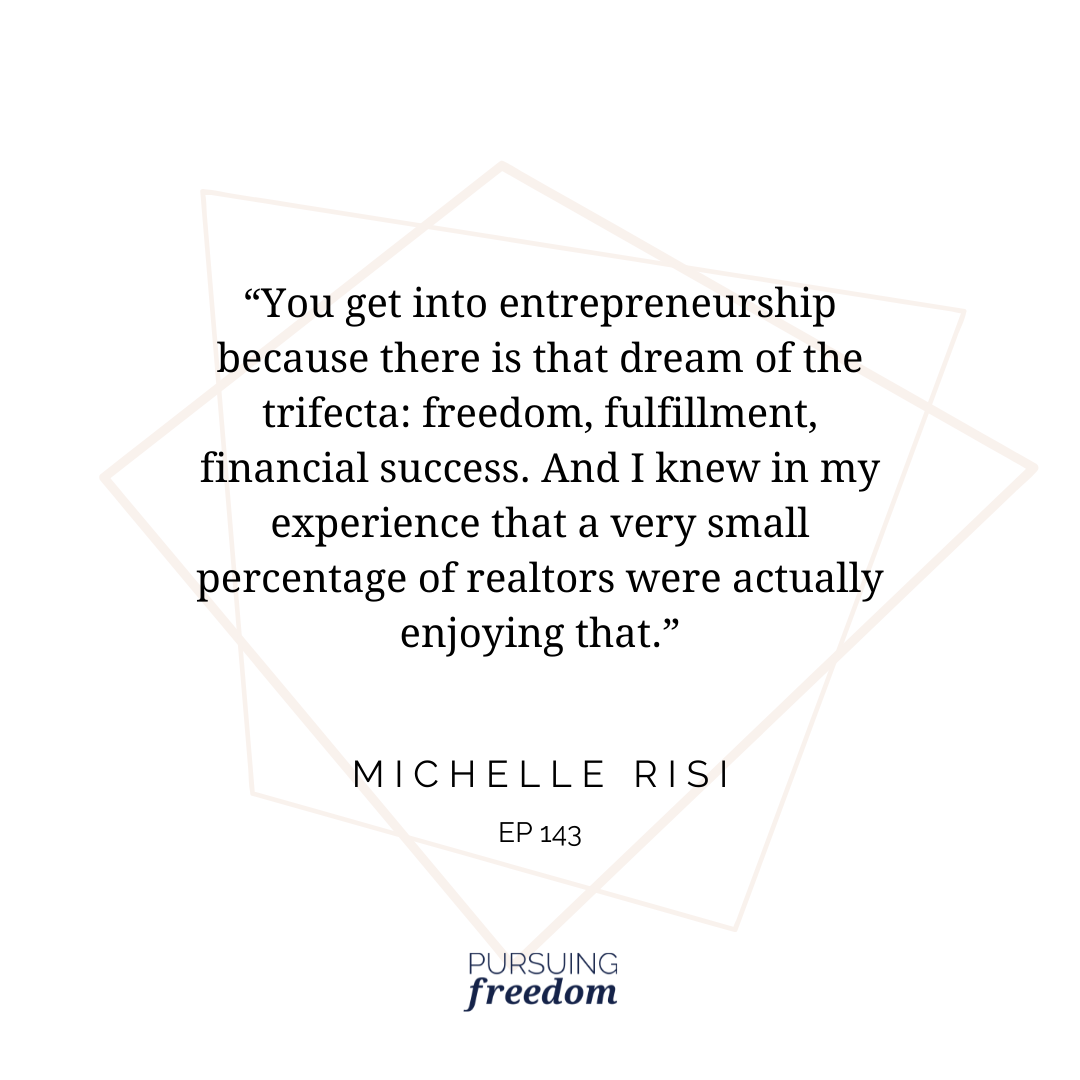 About Michelle Risi
Michelle Risi was named one of the Top 50 Women in Canadian Real Estate according to Real Estate Professionals Magazine.
It's an accolade she has earned!
Born into the real estate industry, Michelle began her career over 20 years ago, and has served in multiple roles to help grow one of Canada's largest real estate franchises.
She is the Broker/Owner of Royal Lepage Connect Realty, a brokerage in Durham and Toronto with 6 locations and approx 300 agents and staff, a published author for Forbes and an active member of the Forbes Real Estate Council.
Michelle's journey as a female entrepreneur is what has led her to the work she does with agents in our industry. She is passionate about helping agents succeed and in addition to her brokerage and industry leadership, she shares her wealth of experience and insights as a public speaker, podcast host and CEO of The Aligned Agent Academy, a coaching company devoted to helping agents create Freedom, Fulfillment and Financial Success in their business.
In addition to being committed to her work, she is whole-heartedly committed to her husband Jim, their two teenage children, and their fur-baby Maddie.
Her secret to managing her two worlds is in her work-life harmony philosophy, one that she shares with other female entrepreneurs who find themselves struggling with "work-life balance". Michelle's vision is to help agents create alignment in their lives and in their businesses, so that they can achieve the Freedom, Fulfillment and Financial Success they desire!
How to Connect With Michelle Risi
Balanced Growth Course:
Additional Resources: