Discipline In Business, with Jonna Weber
Episode 150:
Discipline in business is an essential skill that can help you focus on the right things to move the needle. Hear insights about:
Discipline in Business
Discipline and focus are powerful tools you can use to grow your business. With a million things tugging at your attention, learning to cut through the noise and focus on what matters most isn't just good for your business. Developing discipline in business is practically a survival skill!
This week's guest on the Pursuing Freedom podcast is Jonna Weber, a Boise, Idaho based real estate agent and business owner and experienced real estate investor. Real estate is Jonna's third career, and she didn't get her license until age 39! Yet Jonna has created real success for herself and her team, and she now coaches real estate agents nationally.
During our conversation, Jonna shares how she left her career as a teacher and got started in real estate, and she shares how she has grown a thriving business well beyond the modest expectations she had set for herself early on. She talks about some of the ups and downs and challenges she faced as her business grew, and she explains how discipline in business has been a key skill she has put to use.
Why Discipline In Business Matters
When Jonna first dipped her toe into real estate sales, she set the bar low. She hoped to make as much money as she had made as a teacher. And, though it took five months to sell her first property, once the ball began rolling Jonna's new career took off!
Jonna focused on developing her skills. She looked at what other successful agents were doing and extracted important lessons from them. And she worked with various coaches and mentors to help her develop the discipline and focus she knew she needed to succeed… and to keep up with her growing business! She learned to set aside time each day to work on her business and not just in it.
By aligning herself with the right people and finding the right coaches that could push her to achieve more than she thought possible, Jonna was able to truly hit the ground running and very quickly exceed her own hopes and expectations for her career.
Hiring the Right People at the Right Time
The first employee Jonna hired was a full-time assistant. As she explained it during the podcast episode:
"In my case, I believe that not only did I hire the wrong person but I hired too early, because I didn't have my foundation set up as an agent as much. And I spent so much time and money training this assistant because I wanted her to be like a 'little me'. It did not fit, it did not work."
Hiring someone with the wrong skill set for Jonna's business needs became a costly headache. Instead of accelerating the scaling of her business like she had hoped, it became a drain on her energy and resources.
However, this taught Jonna an important lesson. So, when her business scaled organically and it became time to add new team members, this time Jonna focused on finding the right people for the right roles and ensuring that they fit with her vision for her company. And this time, those hires did help Jonna scale her business!
If you'd like to connect with the truly extraordinary Jonna Weber, you can visit her website at www.jonnaweber.com or reach out to her on her personal Facebook page at www.facebook.com/jonnaweber.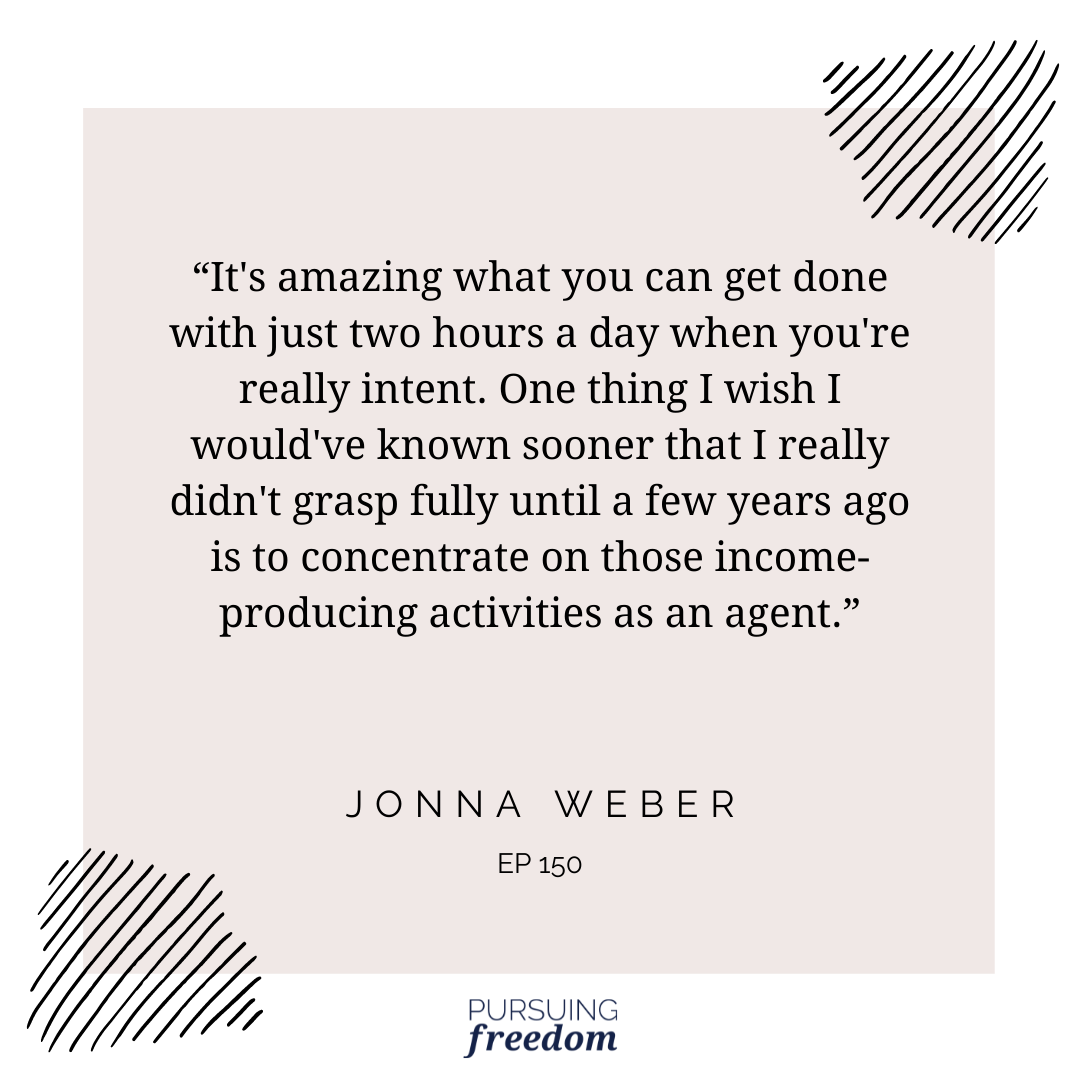 About Jonna Weber
Looking for an expert agent in the Boise, Idaho area? Jonna Weber is a highly dedicated, loyal and professional dynamo who always puts her clients' goals and needs first. If you seek a first-class, personalized and streamlined real estate listing and/or purchasing experience, look no further.
Specializing in the Eagle, Meridian and Boise markets, Jonna has extensive experience with residential and investment properties and luxury listings throughout the Treasure Valley. She excels at, and thrives on, helping her clients ensure their purchasing and selling experiences are impeccably handled and deliver maximum financial and personal returns. Jonna recognizes that each transaction represents the most important sale or purchase a person can make, and she takes every precaution to ensure success through high level negotiation and communication.
Jonna's in-depth knowledge of the Treasure Valley real estate market, particularly in the Eagle, Meridian and Boise areas, comes from 15 years' experience as a buy and hold investor, as well as her experience as a full-time licensed Realtor®. Having completed Luxury Home Marketing training offered by the Institute for Luxury Home Marketing, the premier independent authority in training and designation for real estate agents working in the luxury residential market; she offers the knowledge, skills, and expertise required to support the unique needs of her clients selling or purchasing high-end, luxury properties.
Her unique focus on knowledge sharing, teamwork and collaboration within the industry, coupled with her first-rate training creates a "win-win" for her clients.
How to Connect With Jonna Weber
How to Connect With Erin Bradley
Balanced Growth Course: