New Real Estate Agent Tips, with Yesenia Fernandez
Episode 151:
New real estate agent tips from Yesenia Fernandez, a Fayetteville NC agent who has found extraordinary success in just three years in the business. Hear insights about:
How Yesenia got involved in real estate just three years ago, after a winding career including Air Force service and working in a production factory
What advantages real estate offered Yesenia that she found appealing, and what new real estate agent tips Yesenia followed to hit the ground running
Why Yesenia had to shift her mindset and take a chance on herself to realize her potential for success
How Yesenia leverages her sphere of influence to create opportunities, and what important lessons she has learned while growing her business
How Yesenia overcame the time and energy bottleneck she experienced as her business began to take off
Why Yesenia joined Five Pillars Realty, and what advantages she has seen in becoming a part of a "well-oiled machine"
What other business ventures Yesenia is exploring in the spare time she has created for herself, and what she wants her future to look like
New Real Estate Agent Tips
For anyone just getting started as a real estate agent, there are a lot of adjustments to make and challenges to overcome…especially if you aren't used to working for yourself! You truly do have to adapt to a new way of thinking, and of evaluating your own priorities and success.
Just ask Yesenia Fernandez, this week's guest on the Pursuing Freedom podcast. Yesenia is a Fayetteville, NC-based agent who has only been in the real estate field for three years, but in her short time she has created extraordinary success! In our conversation, Yesenia shares the new real estate agent tips and strategies that have helped her truly hit the ground running in her new career.
The secret to Yesenia's success has been found in being very intentional about her work and her interactions with buyers and sellers, in leveraging her strengths and her impressive sphere of influence in her community, and in speaking with successful agents about how they achieved what they've created for themselves.
Yesenia's Top New Real Estate Agent Tips
After a winding career that involved Air Force service and then working the late shift in a production factory, Yesenia Fernandez realized that the path she was on wasn't getting her much closer to her financial goals, and she decided to make a big change by moving into real estate. Luckily, Yesenia's experience as an Air Force veteran and her extensive contacts within the Fayetteville, NC community proved to be powerful resources she could leverage as she got started as a real estate agent.
Recognizing the strength of her sphere of influence, Yesenia was able to lean into her understanding of the local area and the needs of military families moving into and out of the area due to its proximity to Pope Army Airfield and Fort Bragg. By bringing her own experiences as a military veteran to her work, she is able to better meet the unique needs of her clients. This is truly one of the best new real estate agent tips Yesenia shared: find the area in which you can bring unique value to your clients, and intentionally step into that role. It can transform your business!
Learning to Dream Big
During our conversation, Yesenia shared that her initial goal with her career in real estate was to simply get out of debt. However, as she began to experience more and more success, she had to keep creating new goals and motivations for herself. Initially, she wasn't sure what kind of success she would find, but her business was able to quickly scale. She had to learn to dream big and push through her fears and limiting beliefs, but each time she did so she unlocked a new level of success and confidence in herself.
And that's really the idea behind the Pursuing Freedom podcast! It's about determining what YOU want from life and learning to believe that you CAN achieve those goals. That's why I know the new real estate agent tips and other wisdom Yesenia Fernandez generously shared in this week's episode are so valuable, and I really think you'll enjoy hearing her enthusiasm and perspective!
If you'd like to connect with Yesenia, you can find her on Facebook at www.facebook.com/yeseniafernandezrealtor/ or on Instagram at www.instagram.com/yesenia_five_pillars_realty/!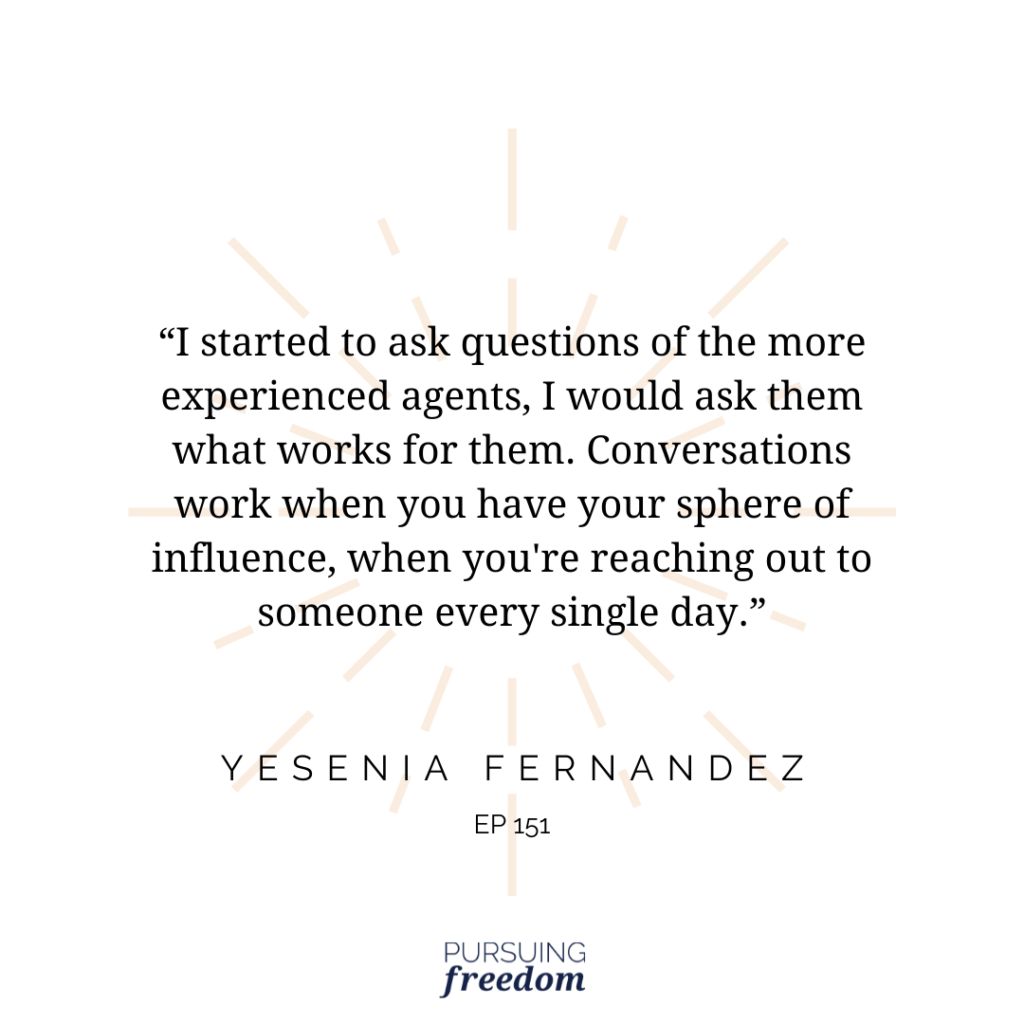 How to Connect With Yesenia Fernandez
How to Connect With Erin Bradley
Balanced Growth Course: