Business Growth Strategies for Real Estate Entrepreneurs, with Jason Javer
Episode 124:
Jason Javer specializes in the development side of the real estate industry, but his business growth strategies are effective in every discipline. Listen to his insights about:
Jason's real estate journey, and the unique perspective he gained on the development side of our industry
How infill development works, yielding $15-20M in annual revenue for Vista Homes
How to implement Jason's business growth strategies in your own real estate business, no matter what your area of focus is
Why Jason's team uses a combination of digital and traditional marketing strategies
How to humanize the relationships in our transactions to create more reciprocity and flow
What metrics Jason uses to make sure he is on pace to hit his goals for 2021
Business Growth Strategies in Real Estate
Jason Javer is the co-owner of Vista Homes in Charlotte, NC and the host of "The Charlotte Entrepreneur" podcast. He offers a unique perspective that deviates from the residential real estate discussions we normally have on the show because he specializes in the construction and development side of real estate. Successful business growth strategies work in any focus or discipline, and Jason has made growth a top priority in his organization for years. He joins us in this episode of Pursuing Freedom to share what he has done to create predictable growth in his business to enjoy the freedom and flexibility that comes with being self-employed.
Infill Development
Jason and his team are avid learners and implementers of effective business growth strategies from the top down. When it comes to branding, marketing, and business development, Vista Homes takes a progressive approach that keeps them on the cutting-edge. Jason's business focuses on infill development which is the development of vacant/unused properties surrounded by heavily developed properties just outside of Charlotte proper. Most of these are single-family homes targeting millennials that want to start a family while remaining close to the bars and restaurants. With this strategy, Jason's team is doing $15-20M in revenue a year with about 35 transactions.
Try Everything, Track Everything, and Double Down if it Works
Real estate investing often seems like a foreign language to those of us selling residential real or working on the mortgage side of the industry. However, Jason's approach to planning for success and implementing business growth strategies that produce the results he wants is universal. One of the key elements of this is Jason's ability to operate off-market. He has developed a network of agents and brokerages that know who to go to when they have good off-market opportunities. Jason's approach is to try everything, track everything, and double-down if it works. This is accomplished through both digital advertising and traditional advertising.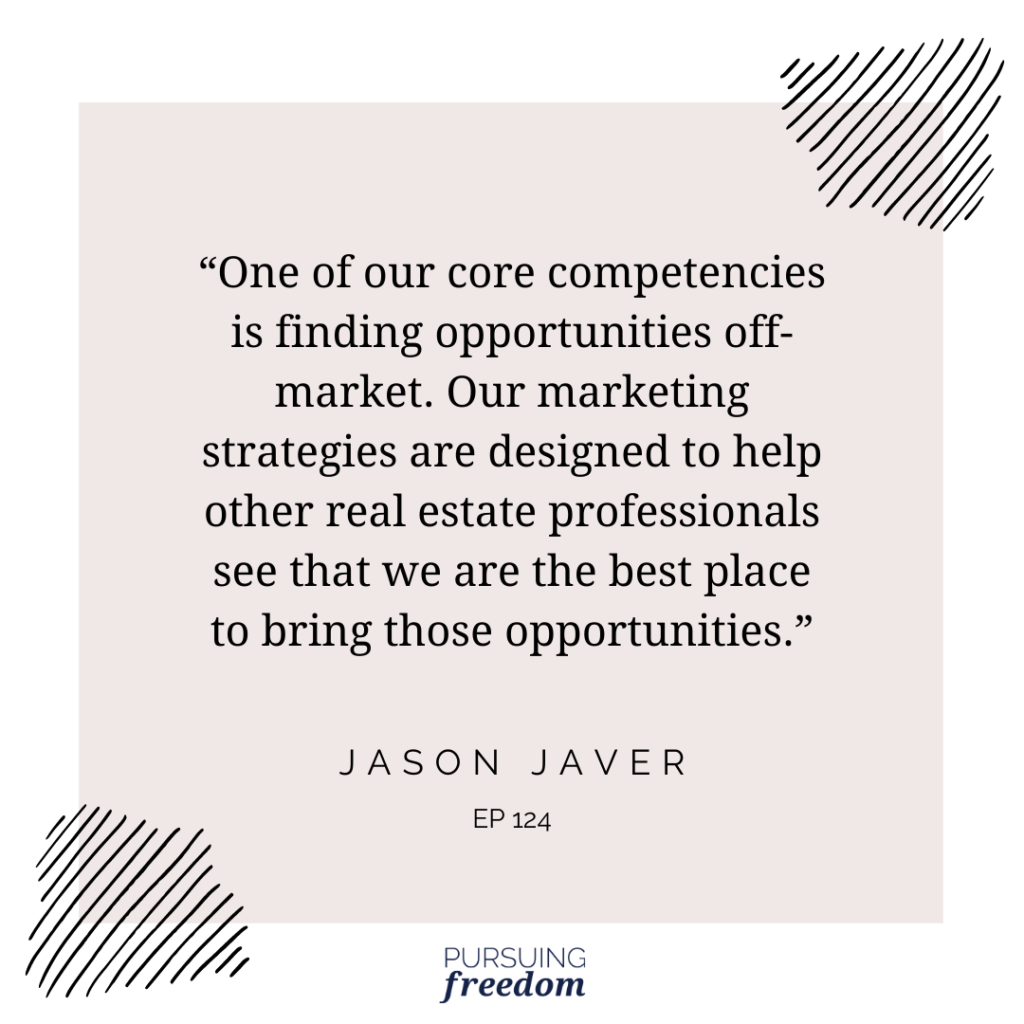 About Jason Javer
A New York native, Jason Javer graduated from the Ross School of Business at the University of Michigan with a degree in finance. After working for a private equity company that invested in real estate in Chicago, Jason felt he had the foundation needed for success in real estate investment and development. Additionally, his experience as a financial analyst allowed him to take the leap into real estate entrepreneurship 6 years ago. As a member of the thriving Charlotte community, Jason enjoys his time at the office and out on the golf course with friends.
How to Connect With Jason Javer
Balanced Growth Course:
Additional Resources: