Creating a Business Growth Plan That Aligns with Your Goals, with Kimberlee Meserve
Episode 123:
Once you've set goals that are aligned with your vision for the future, you need an actionable business growth plan to execute. Kimberlee Meserve shares her approach to achieving growth and scale in the real estate business with insights about:
Kimberlee's success journey in real estate
Why Kimberlee chose to work for a brokerage before branching out on her own, and what she took away from that experience
How to determine whether or not a team is a good fit for you
Why it is so important to track your numbers from day one
What tools and metrics Kimberlee uses to track and measure her success
How Kimberlee maintains a sense of joy while she produces results
Build a Business Growth Plan in Real Estate
Kimberlee Meserve is an absolute rockstar who I met through a mastermind group, and she is killing it right now, in both life and business! After moving to Boston in 2018 without knowing anyone, she created a business growth plan driven by first-time homebuyer events and re-built her business from scratch with this approach. Now, Kimberlee has her own rapidly growing team in the Boston market, founded on the success of her well designed first-time homebuyer workshop called "Brews and Buying." In this episode of Pursuing Freedom, Kimberlee joins us to share her journey and provide tips for growing your business in the real estate space.
When Should You Branch Out on Your Own?
Kimberlee's business growth plan continues to yield results, because she has created an environment that provides opportunities for everyone on her team. She is very selective about who she brings into her world, and she works hard to value that is unmatched in the marketplace. While the team model may not work for everyone, Kimberlee is thriving as a team leader. In order to grow your business in the real estate space, it's important to create a business model and a work environment that cater to your strengths. This is the foundation for achieving growth and scale, and sometimes, branching out on your own from the get-go is the right move.
Track Your Numbers From Day One
Any growth activities you do should be approached with a business mindset, and your results should be tracked. That is why Kimberlee's business growth plan is built around creating predictability. Many agents make the mistake of waiting for business to fall onto their plate. But when you are tracking your numbers day-in and day-out, you are forced to understand where you stand in relation to your goals. Tracking enables you to constantly tweak your action plan with finite adjustments so you are always moving the needle and making progress toward your goals. If you want to grow your real estate business this is one of the critical practices that will help you stay consistent.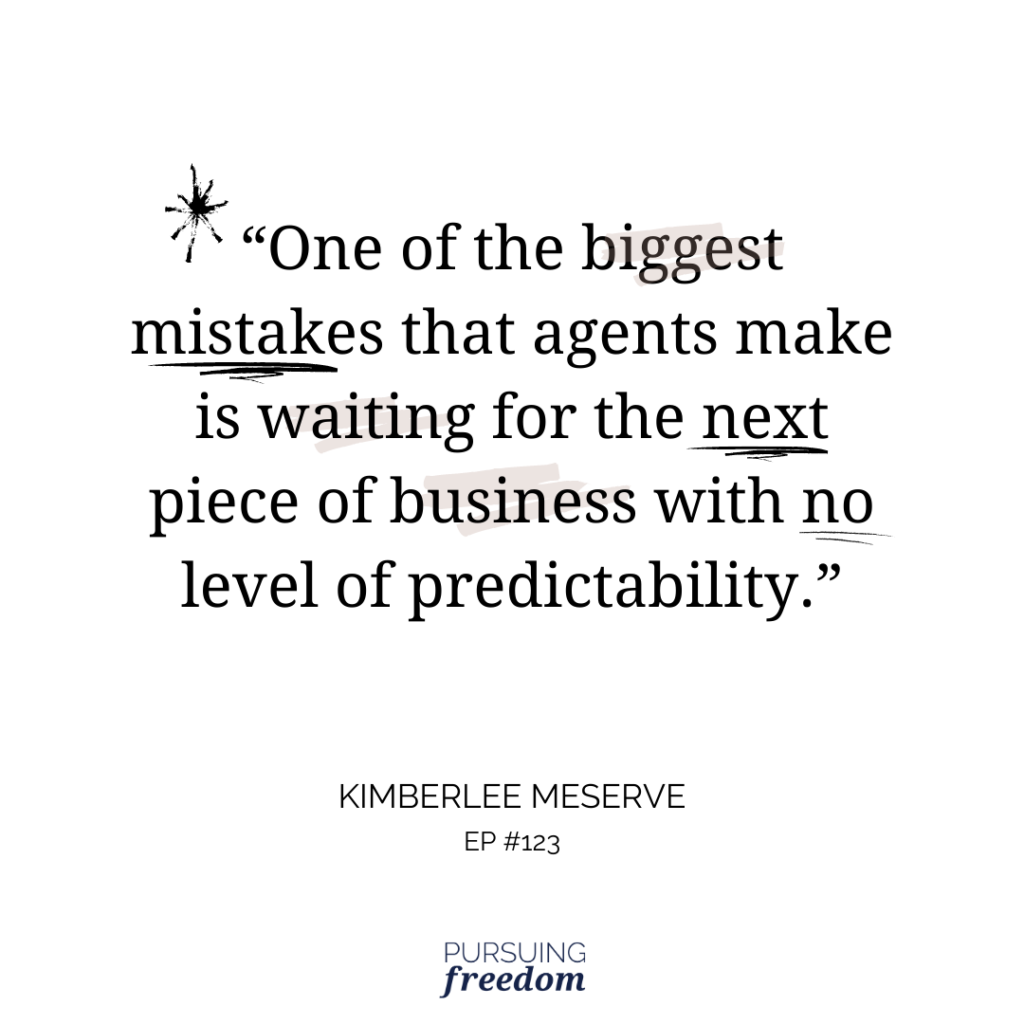 About Kimberlee Meserve
Member of Realtor Magazine's 2020 class of 30 under 30, Kimberlee Meserve is an agent in the Boston, MA market and founder of Brews and Buying first-time homebuyer workshop. She moved to Boston without knowing anyone in late 2018 and re-built her business from the ground up through first time home buyer events.
How to Connect With Kimberlee Meserve
Balanced Growth Course:
Additional Resources:
Book Recommendations: