Brand Authenticity in Real Estate, with Corinne King
Episode 156:
Brand authenticity is crucial for building your reputation as a real estate agent. Hear insights about:
How Corinne first connected with Erin, and how she first got into real estate branding and marketing
Why mindfulness and mindset work has become a cornerstone of Corinne's brand authenticity
How Corinne's Branding You came to be, and why she believes it is crucial to work all of yourself into your brand to ensure brand authenticity
Why it's important to eliminate things that drain your energy and focus on working with the people who bring you joy
How to work on your mindfulness and mindset, and why books on the subject often neglect to discuss taking action
How Corinne determines and prioritizes intentional goals, and how she finds gratitude in every moment
Why focusing on the right goals, planning for those goals, and putting in the work to achieve them is crucial for creating a happy life for yourself
Why it is important to "embrace the pause" and give yourself time to recharge, re-center, and re-energize yourself before tackling big things
How noticing and focusing on the little moments in your day can add up to powerful mindset changes
What Corrine will be offering in her powerful upcoming nine-week workshop titled "Marketing Academy: Designed Just For You, Realtor"
Brand Authenticity in Real Estate
How you present yourself is a big part of your brand as a real estate agent, and brand authenticity is important for building your reputation and carving out your niche in your market.
However, it's easy to try to overly "polish" your brand: dressing a certain way, communicating only the positives, and sharing only part of who you are can drain your brand authenticity. Corrine King is an expert at helping real estate agents develop their brand, and she believes the best brand is one that truly reflects all of who you are.
In this week's episode of the Pursuing Freedom podcast, Corinne shares why being your authentic self is crucial for brand authenticity, and she discusses why "embracing the pause," being mindful and present in each moment, and taking control of your mindset to overcome your limiting beliefs is key to truly standing out and building the happy life you're looking for!
Branding YOU: The Key to Brand Authenticity
Early on, Corinne wrestled with her brand and how much of herself she wanted to share. She was concerned that being too "woo woo" and discussing mindset and mindfulness as part of her work would drive potential clients away.
However, when Corrine fully integrated who she is into her brand, the opposite happened. She attracted right-fit clients who understood what she had to offer, and her business took off! Today, Corrine helps real estate agents and realtors fully embrace their brand, master their mindset, and focus on what really matters rather than getting bogged down in the many distractions we all face.
Mindfulness, Mindset, and Being Present
Your mindset has a HUGE part to play in your success; if you don't believe in yourself, how can anyone else believe in you? Corinne believes that it's important to take time to pause, reflect, reset and recharge is incredibly important for maintaining the energy you need to grow your business. Corinne says that practices like journaling and meditation can help you find clarity, energy, and passion for your work.
When setting goals, it's important to understand the "why" behind it. If your goal is to make more money, why is this important to you? What outcome does more money mean for your business and your life? Pursuing a goal for its own sake can be a recipe for disaster, but if you understand why your goals matter to you, you can then determine what actions you'll need to take to make them become reality.
If you'd like to connect with Corinne King and find out more about how she can help you build a life you don't need a vacation from, please email her at corinne@brandingyourealestate.com or visit her website at www.BrandingYouRealEstate.com. You can also follow Corinne on Instagram at @brandingyou_realestate to follow along with her extraordinary adventures!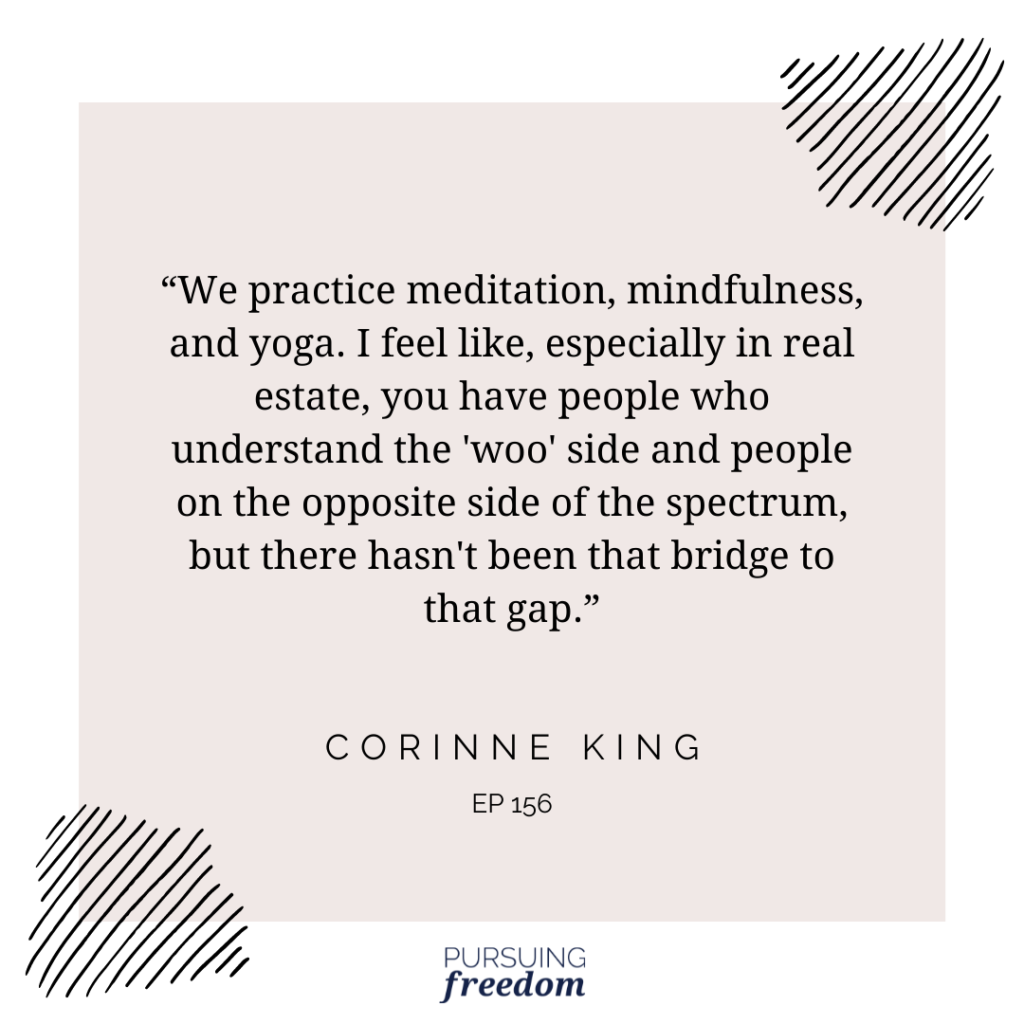 About Corinne King, in her own words:
"Hey, it's Corinne! I love real estate. I love branding. I REALLY love helping people realize how freaking amazing they are and how they can use this superpower to brand themselves. So here I am, finally living out this passion project I dreamed up so long ago. I am curious, a doer, a Realtor, a tester of all things, researcher, listener, I have failed and because of that I have succeeded, I am also like you…Growing & evolving every chance I get and designing me one podcast, one blog, one book at a time.
The past few years I have been working on brand building and sharing and discussing ideas with my fellow Realtors. As the years went on and as I continued collecting ideas, and many times putting them to practice, I always had this voice in my head that I needed to share what I was learning with others. I've been in real estate for seven years on a high-producing team in the beautiful US Virgin Islands (I know, I am living a pretty sweet life).
I wear many hats on our team, leading with Branding and Marketing Strategist. But most days you'll find me showing property, answering leads, editing photos for new listings, crashing my drone (haha joke, kind of, but yes I handle the droning for our listings) negotiating offers, managing transactions, pounding in signs, attending Realtor board meetings… so I am right there with you, in the trenches of our exciting world of real estate!"
How to Connect With Corinne King
Balanced Growth Course:
Book Recommendation: