Facebook for Real Estate Agents, with Adam Sheets
Episode 155:
Facebook for real estate agents? It can be powerful for building your sphere of influence and for marketing. Hear insights about:
How Adam first became a real estate agent as a backup plan, and how seeing his friends miserable in their careers pushed him to build a career
How Adam staked out his own path by exploring the power of Facebook for real estate agents for both his marketing and to build his sphere of influence
Why Adam chose to focus on Facebook rather than LinkedIn or Instagram, and what benefits he gets from Facebook that he can't find elsewhere
Why consistent branding and posting on Adam's Facebook page is crucial for helping him build his reputation and influence
Why successful use of Facebook in real estate involves focusing on messaging that moves the needle for your business
What Adam's business looks like today versus when he started, and what goals and growth plans he has set for the coming year
Why Facebook for real estate agents is an ideal platform due to its enormous user base, which creates a powerful "unlimited audience"
How a developed and fleshed-out content calendar helps Adam continue creating content for Facebook without scrambling for ideas
Why Adam occasionally posts personal content on his page to boost his business posts by satisfying Facebook's engagement algorithm
Facebook for Real Estate Agents
Facebook can be a powerful engagement tool for building your brand, forging relationships, marketing your business and speaking directly with clients.
In this week's episode of the Pursuing Freedom podcast, real estate agent and Facebook expert Adam Sheets shares how he has built a thriving business in just six years fueled almost entirely by the incredible reach of Facebook's powerful social media platform.
While Instagram and LinkedIn are often the "go-to" social media channels, Facebook for real estate agents is ideal because its reach gives it a unique position that you can turn into an incredible lead generation source, as well as a way to position yourself as an expert in your area.
Facebook for Real Estate Agents: Extending Your Reach
As Adam explained during our conversation, he's only been operating in real estate since 2016. However, he has been able to find extraordinary success thanks to using Facebook as his primary marketing tool.
Adam says the key is to create a content calendar and stick to it! That way, you aren't always scrambling for ideas for new posts, and that consistency helps increase your engagement. Creating solid content that is helpful to your audience is a critical step in the process, but so are sharing that content consistently and ensuring that it looks polished and professional.
The Cost and Reach Advantages of Facebook
Adam decided to join the family business as a "last resort", but he quickly realized that being a real estate agent offered him a level of freedom he wouldn't be able to get working in a corporate job. However, he didn't want to do things the way they'd traditionally been done, and so he immersed himself in Facebook so that he could master its systems and algorithms. He quickly realized how inexpensive and powerful Facebook for real estate agents can be. With almost 3 billion global users, Facebook is the world's largest and most powerful social media platform. And Adam is an expert at putting that reach to good use!
Today, Adam's business is booming after just six years, and he even spends part of his time teaching others how to master Facebook. If you'd like to learn more about Adam and his family team, you can visit their website at www.sheetsteam.net or visit them on Facebook at www.facebook.com/thesheetsteam to see Adam's mastery of Facebook firsthand!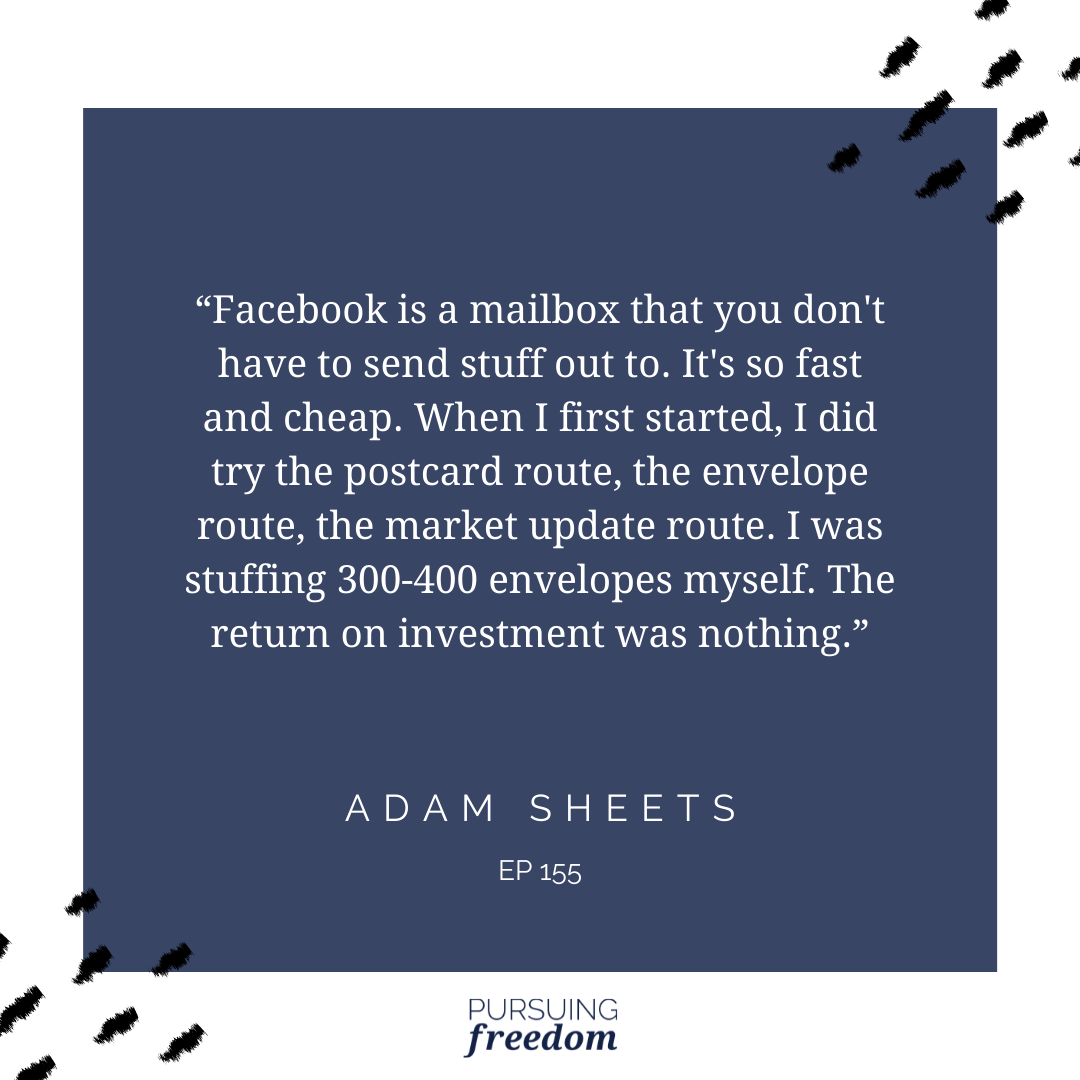 About Adam Sheets, in his own words
"I'm a college drop out that turned to real estate as a last ditch effort to make a career for myself. I run a team with my Mom, Brenda and my Dad, Marty. I had $1200 when I started so I turned to Facebook because it was the cheapest way to generate business. Now, over 97% of my business comes from Facebook and I operate a coaching platform with over 150 students. I'm a RE/MAX "Rising Star", SWFL Real Producers "Rising Star" ranking in the top 500 over over 16,000 agents, Five Star Professional 'Rising Star" and a RE/MAX Platinum Level Agent."
How to Connect With Adam Sheets
Balanced Growth Course: