LinkedIn Lead Generation, with Scott Aaron
Episode 161:
LinkedIn lead generation can be a powerful tool to do more deals, expand your network, and grow your business. Hear insights about:
How Scott got started in LinkedIn lead generation after learning to "lean into the uncomfortable" and after a dramatic financial setback
Why "trading time for dollars" doesn't create freedom, and how Scott's career path led to mastering LinkedIn lead generation
What aspects of LinkedIn's audience makes it more attractive to real estate professionals than Facebook or Instagram
Why LinkedIn is an ideal platform for creating real relationships with right-fit clients who know, like and trust you in an organic way
Scott defines the "four layers of LinkedIn" starting with your profile, and he shares the elements that create a great, attention-catching profile
Why the free version of LinkedIn offers all the tools you need to stand out and generate new leads
Why you should only accept connection requests from people who fall into one of two buckets: ideal clients and "power-partners"
Why the word "support" is a power word that can open new doors, and how to create messages to others that can help you build bonds
Why creating value-added content is crucial, and why committing to a content posting schedule is vital
LinkedIn Lead Generation
One of the challenges real estate agents face is in generating leads, and there are lots of channels available for marketing your business. Many real estate professionals use social media tools like Instagram or Facebook, but you shouldn't overlook LinkedIn either. LinkedIn lead generation can be a powerful resource for growing your network and your business. The key is to use it correctly!
My guest for this week's episode of the Pursuing Freedom podcast is my friend Scott Aaron, an internationally acclaimed and award-winning network marketer, business coach, author and speaker who has mastered the art of using LinkedIn as a powerful marketing tool for professionals of all kinds.
In our conversation, Scott shares how LinkedIn's audience demographics and built-in networking resources can be put to work by real estate agents to grow their reach, find more right-fit clients, and create content that inspires trust and builds a powerful reputation.
LinkedIn Lead Generation Strategies
Scott's secret to creating powerful LinkedIn lead generation is found in his "four layers" approach. These are four key steps you can follow to significantly up your LinkedIn game. Scott describes it like a wedding cake with four tiers. The bottom tier, the base, is your profile itself. Your profile's elements should be working together to clearly define what you do. Your profile picture should be a professional headshot, and your headline should NOT be a "power statement" but instead should be filled with searchable terms that sum up what you do and who you are. Your "About Me" section should be written in the first person and should conclude with a clearly defined call to action. All the following sections such as your education, volunteer experience and licenses and certifications should be filled in as well.
The second layer of your LinkedIn cake is how you build your network. Scott says that you shouldn't accept every connection request you get but should instead only connect with others if they fall into one of two categories: they should either match your ideal client avatar, or they should be what Scott calls "power partners", people who operate in the same spaces you do that can make introductions and facilitate connections. Anyone who isn't an ideal client or a power partner shouldn't become part of your network.
The third layer is your messaging. How you reach out to others has a dramatic impact on how their opinion of you forms. Your messaging should follow Scott's three-step "magic formula:"
Connection request – a personalized, relaxed, conversational introduction
Lower the drawbridge – find and clearly state the common points you share with the person you're messaging, and specifically use the word "support" in this section
Call to action – a closing statement that clearly defines what you would like the recipient to do next to further the building of the relationship
The final layer of Scott's LinkedIn lead generation strategy is your content creation. The content you share on LinkedIn should add value to the people you share it with. It should be focused on what Scott calls the PSP, the "passenger-side perspective." In other words, your content should be tailored around your audience and their needs and expectations.
If you would like to see what a great LinkedIn profile looks like in action, check out Scott's profile at www.linkedin.com/in/scottaaroncoach/. On his website, Scott also offers a free LinkedIn profile optimizer that can help you identify and correct issues with your profile. You can find that at www.ScottAaron.net, where you can also connect with Scott and learn more about how he helps clients master LinkedIn lead generation. And as always, check out www.pursuingfreedom.com for other great podcast episodes and interviews with industry professionals!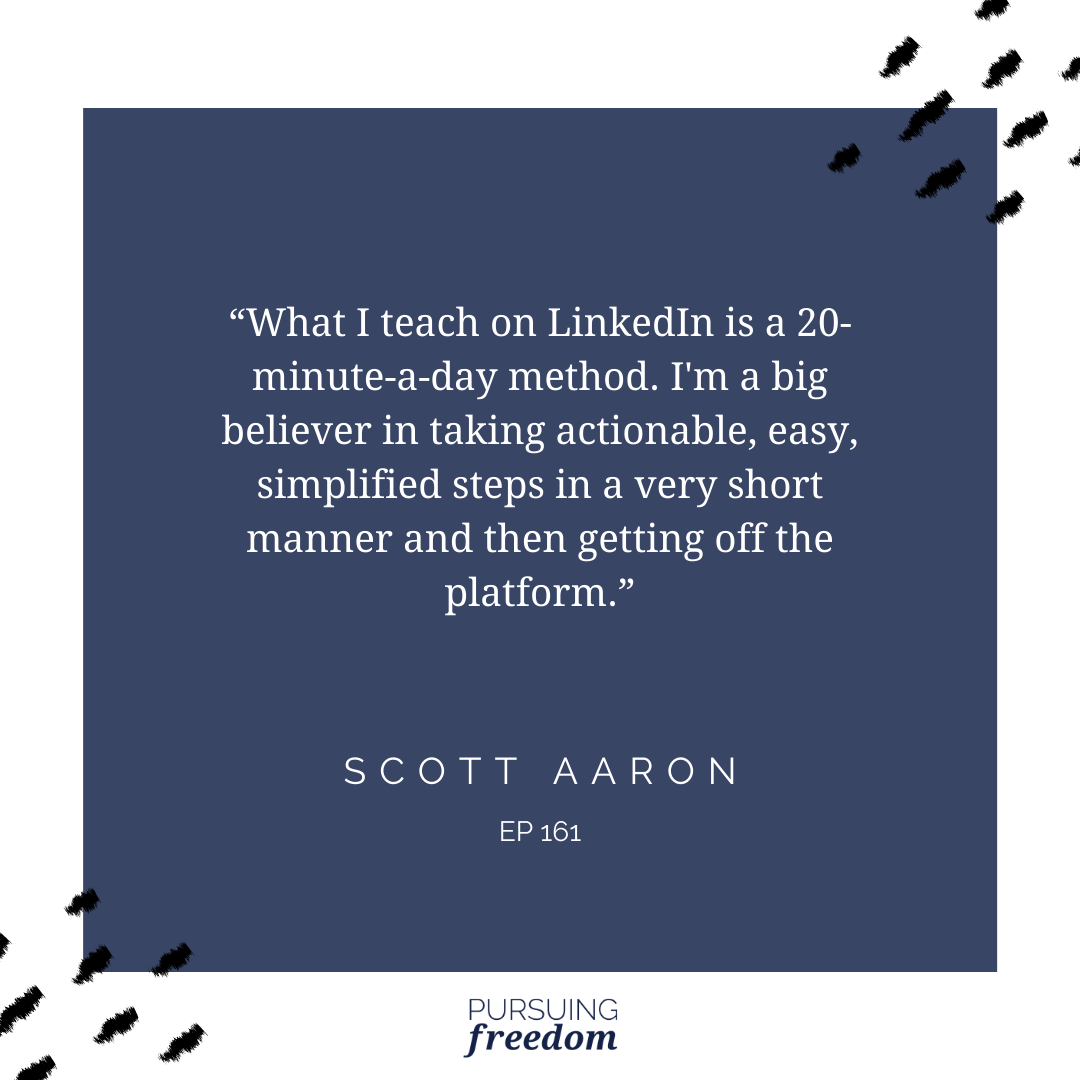 About Scott Aaron:
Internationally acclaimed and award-winning network marketer, business coach, author and speaker, Scott Aaron is the go-to specialist when it comes to converting traffic, establishing connections, creating residual income using LinkedIn®, and building personal brands.
Starting his own network marketing business just 4 years ago, Scott saw the massive opportunities that the internet had to offer. Fully immersing himself in learning LinkedIn and social media strategies, Scott quickly gained traction as a leader in generating big results for other network marketers, online business owners and internet marketers, while generating a multiple six-figure business himself.
Scott is passionate about helping fellow network marketers achieve success while building their own network organically and without complicated and costly marketing tactics. His program has helped thousands of network marketers, entrepreneurs and individuals experience explosive growth following his program LinkedIn Accelerator.
People-focused and results-driven, Scott's strategic approach to teaching others how to create wealth online and organic traffic is the game changer when it comes to competing in a saturated digital world.
How to Connect With Scott Aaron:
Additional Resources: