Leveraging Social Media Content for Success in Real Estate, with Cristina Grossu
Episode 177:
Leveraging social media content as a real estate agent can be a challenge, but with the right advice and guidance, you can understand how to use Facebook and Instagram to market yourself online.
What you will learn in this episode:
How Cristina kicked off her real estate career and the catalyst that prompted her to move from LA to Charlotte
What Cristina's life looks like as a successful real estate agent and how she combines her dream lifestyle with her work
Cristina's intentionality about getting to know people in her new community and how she built a fantastic network around her
Retention strategy and why Cristina nurtures repeat clients organically by staying in touch in a way that meets her clients' needs
How to convert Zillow leads and other online leads successfully
Leveraging social media content — and how Cristina uses her stories to gain genuine traction
The differences between posting on Facebook and Instagram
Cristina's advice for agents just starting out for marketing themselves online authentically
Rocking Your Social Media as a Real Estate Agent
Whether you've been in the real estate industry for a while or you're brand new to the niche, you need to embrace leveraging social media content as part of your social media strategy. You know that I love to be a valuable resource in your life, so I'm so excited to have Christina Grosso on the show. Cristina is a rockstar agent who has been in the business since 2012. She is a Realtor Magazine 30 Under 30 award winner, and she's wowing real estate clients in Charlotte, North Carolina, South Carolina, and Virginia.
I just loved talking with Cristina about how she leverages social media to build relationships and attract perfect-fit clients to her business. Love it or hate it, social media is a huge part of the modern marketing landscape, and if we're honest, most of us could get better at using it. Cristina shares her valuable insights on what to post and how to post it on the main platforms and gives boots-on-the-ground advice for leveling up your social media content game as a real estate agent.
Being Authentic Online
Are you Instagram averse? Do you feel like a Facebook failure?
Well, according to Cristina, it is probably because you're not being true to yourself in what you're posting. Post those cute baby pics, let your followers see when you're traveling, and add a snap when you're at work. If you're genuine in what you post on your social feeds, potential clients follow you because they're interested in you as a person, they want to engage with you on a deeper level, and they love being part of your world.
Cristina shares why she ditched her professional Instagram account in favor of bringing her whole self to work and building AUTHENTIC and real relationships online. She describes how her engagement went off the scale when she started combining her personal passions with her love of home buying and selling.
As well as diving into how to leverage your social media channels to attract perfect-fit clients, Cristina also gave me some valuable insights into converting Zillow leads successfully. And why your responsiveness online boosts engagement and attracts referrals, repeat clients, and leads.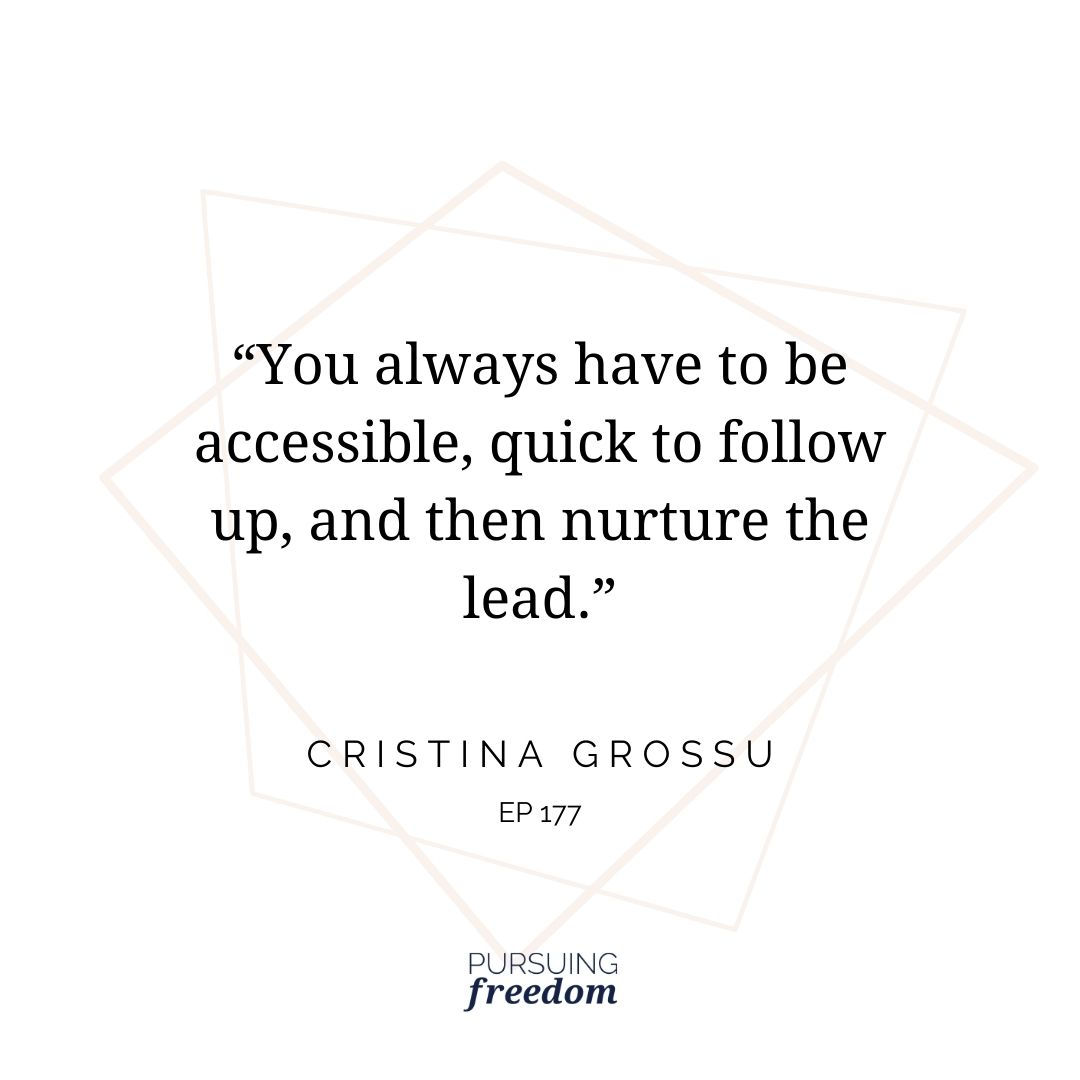 About Cristina Grossu
A people person with a strong desire to help others realize the dream of homeownership, Cristina became a real estate broker in 2012 after graduating from the University of Southern California with a BA in Sociology. She was voted one of Charlotte's 'Rising Stars' by her peers and colleagues (featured in the Charlotte Observer) and also featured in the Rising Star feature of the Charlotte Real Producers magazine; She has successfully negotiated over 150+ real estate sales and purchases throughout North Carolina and South Carolina. Cristina is also known for her problem-solving skills and strategic thinking, and she strives to provide outstanding service to her clients and their families.
Cristina also owns a staging company, Anchor Staging Co., that provides affordable staging services to clients in the Carolinas.
How to Connect with Cristina Grossu
Balanced Growth Course:
Additional Resources: