How to Create Balance in Your Life AND Scale Your Business, with Neil Mathweg
Episode 159:
Passion, enthusiasm, and a clear plan help you work consistently to create balance in your life. This week on the show, my guest, realtor coach Neil Mathweg shares how to achieve a business breakthrough without sacrificing everything else in your life.
Why Neil was inspired to move into a realtor coaching role
Neil's experience of running his business from the road while he is full-time RVing
How to approach the mindset shift of expecting success that exceeds any reality you've previously experienced
How Neil helps people unlock their belief in their own potential
Why staying consistent is the key to business success
The moment in Neil's career that made him shift focus from working 24/7 to finding balance in his life
The process for helping an agent tap into their unique value proposition so that they can bring enthusiasm, energy, and joy to every interaction
What's next for Neil on his journey as a business owner and real estate coach at Agent Rise
Consistency is Key
When you are passionate about your business and your customers, you go all-in on making the magic happen. Listeners know that we're all about helping you build a life that you don't need a vacation from on this show, and Neil joins me this week to share his valuable insights on how to do that. We discuss why enthusiasm and having a clear plan in place allows you to be consistent in your commitment to successfully growing your business.
Neil shares the three pillars of success that form the backbone of his realtor coaching program and how he supports his clients in moving forward in their business and life. Staying consistent in following your strategic plan enables you to achieve the goals you envision and reach the breakthrough moment in your business that sees you intentionally living out your vision and protecting your freedom.
Being Your Best Self
When you're figuring out how to put yourself in the driving seat and take your business to the next level, it's much simpler if you stay in your zone of genius. Neil gives his insights and experience of how working to your strengths helps you in the long term. We dive into getting into your sphere and recognizing opportunities when they present themselves and why fulfilling your passions and unleashing your creativity can help you flourish.
Finding Balance in Your Life
It's a great feeling when you hit that breakthrough point in your business, but financial success comes at the cost of true balance in your life for many of us. I want you to live the life you always dreamed of, not be running around like a headless chicken and not seeing your kids from weekend to weekend — that's not a dream life. In our in-depth conversation this week, my guest Neil serves up some genuinely amazing advice on how to draw your boundaries and avoid pursuing success at the cost of balance.
We discuss the importance of creating personal boundaries, sticking to them, and sharing them with your clients. Neil shares why a values-driven business is attractive to your ideal clients and introduces useful ways to frame your needs honestly in business conversations. After all, that vision of a perfect life included time out of the office, too, right?
To learn more about Neil and how he coaches real estate agents to build their best life, head over to his website at www.agentrisecoaching.com. You can also check out www.pursuingfreedom.com for other great podcast episodes and interviews with industry professionals!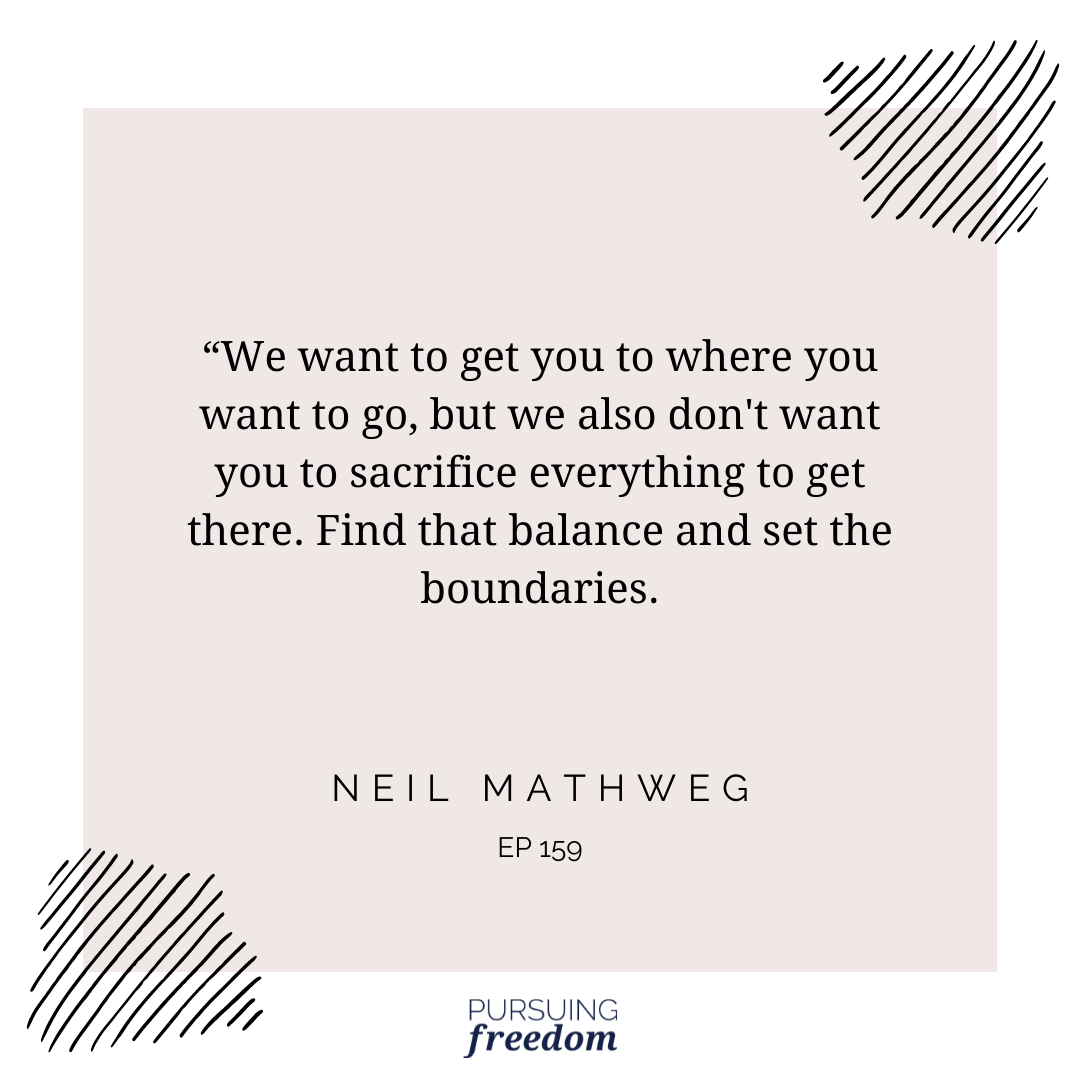 About Neil Mathweg
Neil Mathweg is a husband and father first. Neil's constantly challenging the status quo & redefining what it means to be a REALTOR®️. He's known for building his extensive client base through wowing his clients instead of convincing them of how great he is, his out-of-the-box social media strategies, by empowering his audience on a more personal level.
Beyond his role as a REALTOR®️, Neil is the host of the nationally-ranked podcast Agent Rise and creator of the coaching program Agent Rise Coaching. Neil coaches many agents on how to build a business they love.
How to Connect With Neil Mathweg
Balanced Growth Course:
Additional Resources: