Authentic Connections in Business, with Talia McKinney
Episode 166:
Making authentic connections is good for the soul as well as good for business. But how do you drill down to find out how best to share your passions, serve others and be intentional about reaching your goals? Hear Talia's insights:
Why Talia was inspired to help the local community during the COVID-19 pandemic and what that taught her about forging authentic connections in her professional life
How to find what your light is so you can shine brightly and make a contribution to the world
Why working with Ryan Serhant was a long-term goal of Talia's, how persistence paid off, and what she did to manifest her success
How Talia builds natural relationships with her clients
How playing to your strengths and being willing to learn is critical for new agents
Why building a team can feel like a challenge and how to take that first step
How Talia is evolving her career and her plans for the future
Nurturing Relationships
We're in the relationship business, so if our only focus is the transactions and the bottom line, we will miss the authentic connections at the heart of what we do.
The real estate business isn't a one-way street — but when we lose sight of that and fall into the trap of believing that our interactions are purely financial, then we're making a huge mistake. When we disregard the human side of our business, then the disconnect between the passion and authenticity and our company widens.
The relationships that we're establishing with clients, past, present, and future, are seeds. We're planting seeds, nurturing them, and watching as every seed grows into a beautiful plant or flower. And that's the joy of relationships; we don't know how they're going to turn out. But what we do know is that if you give love and value and service to every single relationship you develop, it becomes the opportunity to grow into something unique.
Making Authentic Connections in the World of Real Estate
In our conversation in this week's Pursuing Freedom episode, Talia shares how she first became aware of Ryan Serhand and why his show sparked her interest in the world of real estate. We talk extensively about how a huge part of Talia's business in 2020 was being genuine and reaching out to people to see how they were doing — not talking real estate — just having genuine check-ins with clients.
Manifesting success has always been a big part of how Talia works towards her goals. We learn how she reached out to Ryan, finally landed a place on his team, and her philosophy on diving right into her role as a real estate freshman. The importance of getting to know your market cannot be ignored, and we discuss how Talia worked her way up to selling million-dollar properties in the luxury New York market.
For more about Talia McKinney and where she plans to go next with her real estate business, head over to https://www.serhant.com/ or say hi on Facebook on https://www.facebook.com/talia.mckinney. And as always, check out www.pursuingfreedom.com for other great podcast episodes and interviews with industry professionals!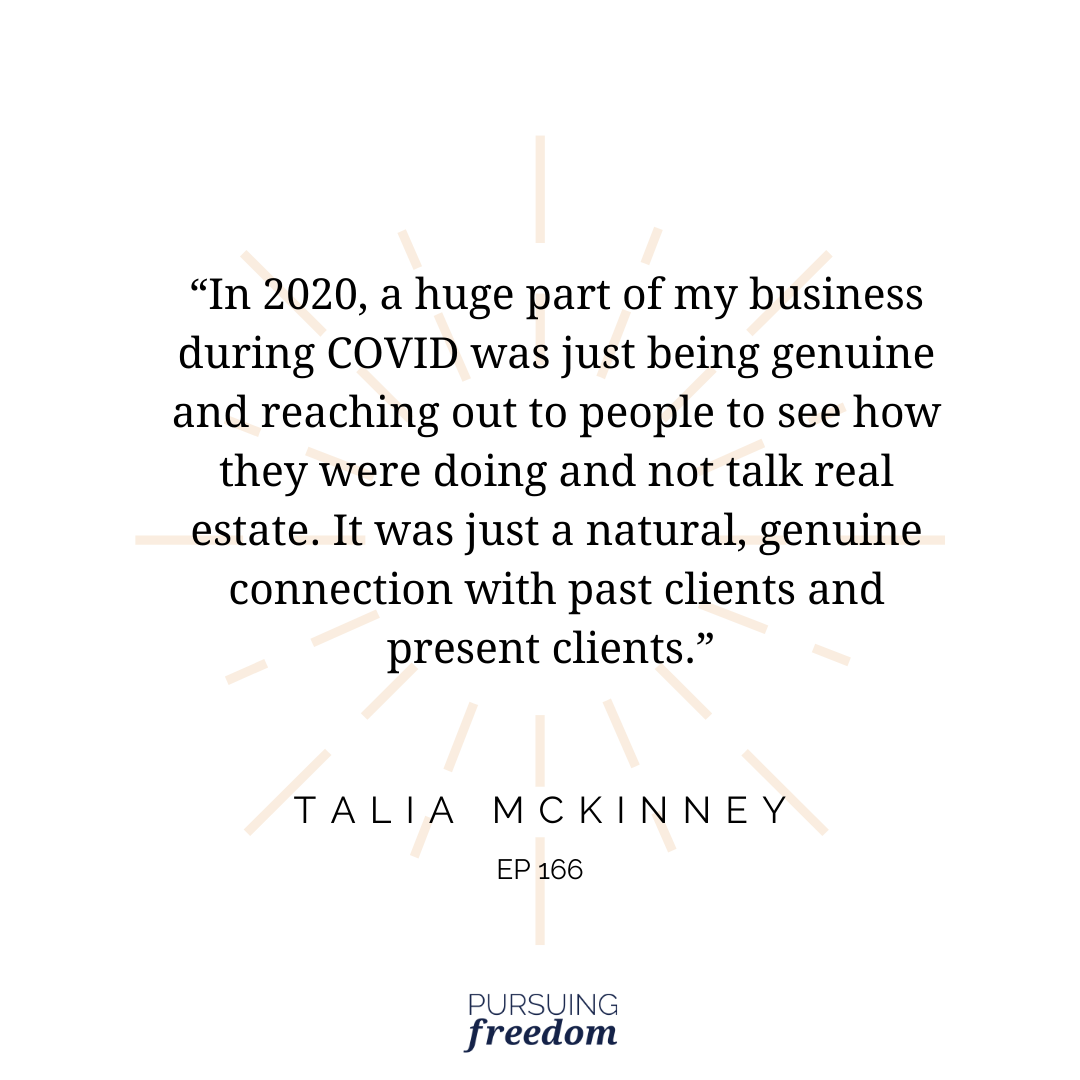 About Talia McKinney:
Talia McKinney, as seen on Bravo TV's Million Dollar Listing New York, approaches real estate with the belief that success is built upon the strength of the relationship. She is patient and attentive when listening to client needs and goals, and her sincerity, honesty, and innate ability to connect are how she makes this time-consuming and often emotional process as easy and pleasant as possible. It is also why, after working with her, many of her clients refer her to friends and relatives.
Talia works with buyers, sellers, developers, and renters all over the city—and particularly in Brooklyn, Manhattan, and Queens. In her seven years in the industry, she has compiled a substantial record of listings and sales that includes co-ops, condos, townhouses, and new developments at multiple price points. Her thoroughness and commitment distinguish her from typical agents, and her steady guidance has led to success and satisfaction for her clients.
Born and raised in Pennsylvania, Talia was recruited to run track at a state college and helped her team become state champions. After graduating, she moved to New York City and explored careers in fashion public relations, event planning, and hospitality. Now an established presence in the real estate community, she was sought out to be a TEDx speaker and is the host of the exclusive LISTED show, 3 in a Million.
When she isn't running around Manhattan selling condos and co-ops or dashing to an afternoon townhouse showing in Brooklyn, Talia can be found volunteering at Achilles International, NY Cares, or the Boys and Girls Club. She competes in triathlons and marathons—what better way to train for the next sprint to an open house?—and is also an avid world traveler, having been to over 40 countries.
How to Connect With Talia McKinney:
Balanced Growth Course:
Additional Resources: