REAL ESTATE COACHING
Whether you're hungry for more business, or you're maxed out and overwhelmed, we can relate! We've been there, and it's our mission to help you. We're passionately appreciative of how hard you work, and how much value you bring to the world. We will provide you a simple strategy to overcome your fears, and crush your goals, all while having more fun than ever before! Click here to sign up for a free consultation.
ONLINE LEARNING
Balanced Growth
Get access to our extensive online learning course that will help you transform from chaos to calm, and plan for healthy growth in real estate: you CAN have it all, and have FUN doing it! Click here to learn more.
REAL ESTATE INVESTING
We teach our clients how to build wealth through Real Estate investing. Erin and her husband have always said that keeping their first home as a rental property was the best accident that ever happened to them! It was not part of the initial game plan, yet today, Erin and her family are living the life of their dreams, thanks to passive income from real estate. Our goal is to inspire our clients to think bigger, and pursue the life of YOUR dreams! Click here to schedule a mortgage consultation.
KEYNOTES & WORKSHOPS
Work with Erin at your next event. From keynotes to live workshops both virtual and in person. COMING SOON.
FREE RESOURCE LIBRARY
Head on over to our free resource library packed full of guides, checklists, and other resources that will help you take your business to the next level. COMING SOON.
PODCAST
Through a weekly podcast, we interview top producing realtors nationwide, in order to bring you their best practices, habits and success strategies. Because every business owner has their own unique personality and brand, there's so much we can learn from one another! Pursuing Freedom is about creating community, collaboration, and inspiration. It's about helping you achieve freedom faster than you could ever dream possible! Join us here. To follow our podcast, click here. And if you're interested in being a guest on the show, apply here. We look forward to connecting with you!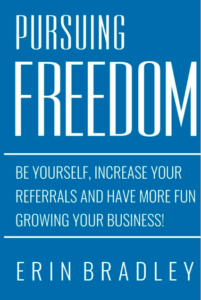 Pursuing Freedom: Be Yourself, increase your referrals and have more fun growing your business!
By Erin Bradley